Samsung Galaxy Grand 2 -- phablet size, mid-range specs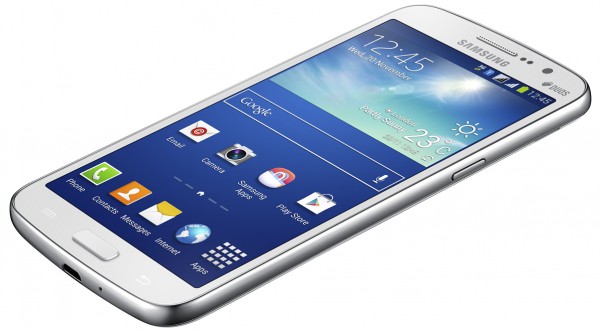 Samsung has reshaped the smartphone market with the Galaxy Note series by giving large-screened handsets mass-market appeal. The South Korean maker has sold tens of millions of its stylus-equipped phablets and other similar devices, with the recipe also being applied by rival companies, such as HTC, LG, Nokia or Sony, seeking to make great strides of their own. After all, consumers love phablets as this segment accounted for 21 percent of all smartphone shipments in Q3 2013, according to research firm IDC.
And, today, Samsung introduces a new phablet in its lineup, called Galaxy Grand 2. The device is the successor of the Galaxy Grand, which was introduced in mid-December 2012 albeit with a smaller, 5-inch display. So how big is the new model?
The Galaxy Grand 2 comes with a 5.25-inch display sporting a resolution of 720 by 1280. The device is powered by a 1.2 GHz quad-core processor, backed by 1.5 GB of RAM and a 2,600 mAh battery. Claimed battery life is 10 hours of playback (Samsung does not mention video or audio, but we can presume it is the former) or 17 hours of phone calls.
On the back there is an 8 MP camera with autofocus and LED flash, while on the front of the Galaxy Grand 2 there is a 1.9 MP shooter. The device ships with 8 GB of internal storage, but allows users to expand the capacity by up to 64 GB (for a total of 72 GB) via a microSD card slot.
Unlike other phablets in Samsung's lineup, the Galaxy Grand 2 does not feature 4G LTE connectivity as the device is limited to HSPA+ cellular speeds; it, however, allows for dual-SIM use. Other connectivity options include Wi-Fi 802.11 a/b/g/n, Bluetooth 4.0, GPS with Glonass support and USB 2.0. There are also various sensors, for proximity and light among others like an accelerometer or compass.
The big screen makes the Galaxy Grand 2 quite large and a bit heavy, as the device comes in at 146.8 x 75.3 x 8.9 mm and 163 grams. Available colors include the typical black, pink and white for Samsung devices.
On the software side, the Galaxy Grand 2 relies on Android 4.3 Jelly Bean with the usual TouchWiz add-ons. The multi-window multitasking feature -- allows users to view two apps side-by-side -- is available and so are ChatOn, Samsung Hub, S Health, Group Play, S Travel, S Translator and Story Album, among others.
There is no word yet on pricing and exact availability, with Samsung only saying that the Galaxy Grand 2 will be ofered in "selective regions".