Acer Chromebook C720P -- reach out and touch it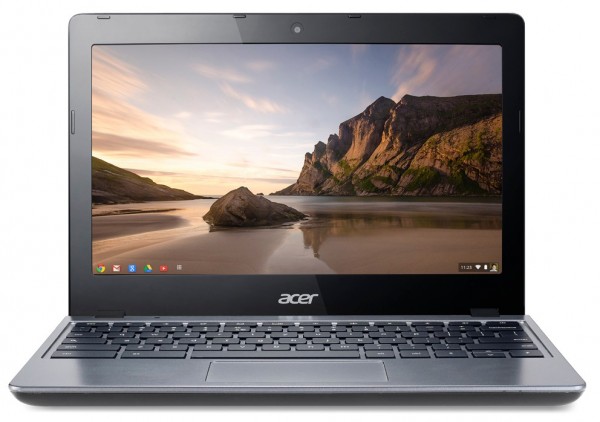 Despite the fact that I love Microsoft's recent Scroogled advertisement (which claims a Chromebook is not a laptop), I am a huge fan of Chrome OS. It is a stable, safe and affordable computing platform; it is based on Linux after all. By offering computers as low as $199, many Americans can achieve modern computer ownership -- something that may not have been possible before.
Speaking of the $199 Chromebook, Acer was the pioneer in that pricing. The computer manufacturer's C7 series of Chromebooks has been a heaven-sent offering of value. Today, the company announces it is continuing to deliver value with the all-new C720P -- a touchscreen Chromebook for a rock-bottom price of $299. Holy moly.
"Acer America today announced the availability of its first touchscreen Chromebook, the new Acer C720P, a new model in the Acer C720 Chromebook line that was introduced last month. The new C720P provides the many benefits of touch on the device's 11.6-inch HD LED back-lit display to take advantage of the Chrome interface", says the manufacturer.
The company further explains, "the Acer C720P's touch capabilities are enjoyed on its vibrant 11.6-inch ComfyView HD display that has a 1366x768 resolution to keep websites, images and video crisp and clear. The multi-touch display allows customers to use gestures such as swipe, tap and pinch to zoom to interact in a natural way with the Chromebook so they can better enjoy educational apps, browse websites, scroll through Google Docs, play games and more".
The computer will be powered by the powerful, Haswell-based, Intel Celeron 2955U processor, which has proven to be very capable with Chrome OS. For storage, a speedy 32GB SSD is installed. Sadly though, there is only 2GB of RAM onboard. While this paltry amount of RAM is passable, it may potentially harm the overall experience with lag and stutter. While I would prefer 4GB of RAM, I understand the need to keep the specs reasonable in order to keep the price so low.
The Acer C720P will go on sale in early December at Best Buy, Amazon and Acer directly, for the previously mentioned price of $299. This is a very reasonable price for a modern touch-screen laptop. If you are on the fence, please know that it also comes with two years of 100GB Google Drive cloud storage. You definitely are not getting "Scroogled" with such an amazing price.