Google releases Santa Tracker and interactive village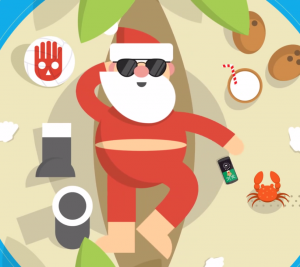 As Christmas approaches, we start to be bombarded with images of a fat jolly man (no, not me). He is of course, Santa Claus -- the bringer of toys and cheer. Since we live in a very materialistic, commerce-focused world, corporations are looking to take advantage of Mr. Claus' image. After all, the image is royalty free.
Google and NORAD used to be partners in the Santa-tracking business. However, that relationship soured (like milk left out for Santa) and the USA and Canadian installation partnered with Microsoft instead. Not to be outdone, Google announces that not only is it too offering tracking of Mr. Claus, but also an interactive Santa Village filled with games and animations.
"A team of Google engineers are working hard to track Santa's sleigh with the most advanced maps and holiday technology available. On December 24, grab some cookies and apple cider and settle down in front of your computer, phone or TV to follow the big guy across the globe with our Santa Tracker. See where Santa's going, the number of presents he's delivered, and what he's thinking throughout the evening", says Sandy Russell of Google.
Russel further adds, "to join in the flurry of preparations for Christmas Eve, visit the Village every day through December 24. You'll have the chance to join the elves as they catapult presents and race with reindeer, and you'll be able to send holiday wishes to friends and family from Santa himself. The elves make a little more progress each day, so be sure to stop by the Village to see the latest".
Chrome browser users are in for a special treat, as Google has an extension to track Santa Claus on his journey. You can install the extension by clicking here. Hopefully this extension doesn't track you too. Although, Santa does love cookies...