According to Google, authentication standards are thwarting phishing emails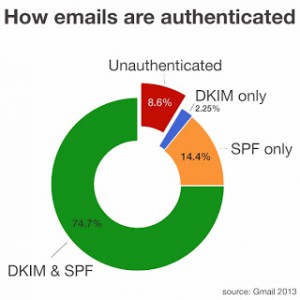 Phishing scams are a blight on the internet that will never be totally eradicated. If you aren't familiar with the term, "phishing" is when someone attempts to glean information through means of impersonation. Sending you a message purporting to be from your bank for example. Try as we may, this crime will always be a part of life. However, there is no reason that the risk of these dangerous emails cannot be decreased.
Since 2004, various groups have been slowly developing authentication standards, in an attempt to thwart these malicious messages. Today, Google has some great news -- the standards are working.
"Adoption of these standards is widespread across the industry, dramatically reducing spammers' ability to impersonate domains that users trust, and making email phishing less effective. 91.4-percent of non-spam emails sent to Gmail users come from authenticated senders, which helps Gmail filter billions of impersonating email messages a year from entering our users' inboxes", says Google.
The search-giant further explains, "more specifically, the 91.4-percent of the authenticated non-spam emails sent to Gmail users come from senders that have adopted one or more of the following email authentication standards: DKIM (DomainKey Identified Email) or SPF (Sender Policy Framework)".
Google shares the following statistics:
76.9-percent of the emails we received are signed according to the (DKIM) standard. Over half a million domains (weekly active) have adopted this standard.
89.1-percent of incoming email we receive comes from SMTP servers that are authenticated using the SPF standard. Over 3.5 million domains (weekly active) have adopted the SPF standard.
74.7-percent of incoming email we receive is protected by both the DKIM and SPF standards.
Over 80,000 domains have deployed domain-wide policies that allow us to reject hundreds of millions of unauthenticated emails every week via the DMARC standard.
While these statistics are impressive, even one person falling victim is too many. The 8.6-percent of unauthenticated emails is still a huge problem. If you own one of these unauthenticated domains, Google suggests that you join the fight and check out the following help pages: DKIM, SPF, DMARC.
Photo credit: Slavoljub Pantelic/Shutterstock