The Walk is a 500 mile thriller where every step counts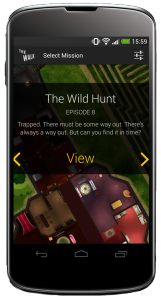 I'm a huge fan of Zombies, Run! The immersive app, available for iOS and Android, helped me to lose weight and get fit again, providing the motivation I needed to run on a regular basis. If you've not heard of it, the app is a bit like a radio play that unfolds between songs and turns a real-world run into an entertaining journey through the zombie apocalypse.
Now the developers behind that app, Six to Start and Naomi Alderman, have released a new fitness tracker and game for iPhone, iPod touch and Android devices, which is designed to help players incorporate more walking into their everyday lives.
The Walk has been funded by the UK's Department of Health and the National Health Service (NHS) and like Zombies, Run! is story based. There are no undead shamblers in this particular app, however. Instead, following a bomb explosion at Inverness station you find yourself carrying a package that could save the world. It's a gripping thriller, in the same vein as classics like North by Northwest or The 39 Steps.
The app adapts to how many steps you can manage in a day and won't expect you to suddenly start going out on long walks (although that's the ultimate hope). It's estimated the game will take around three months to complete (nearly long enough to virtually travel the length of the UK) and audio story clips and mysterious clues are unlocked as you walk.
Adrian Hon, CEO of Six to Start, says, "The Walk is a truly unique app. We don't just record your daily steps -- we provide the motivation for players to literally go that extra mile, and we're twenty times more affordable than other fitness tracking devices. We also have unique partners in the Department of Health and the NHS, who both recognise the power of apps to improve everyone's people's health and save millions of pounds".
Naomi Alderman, co-creator and lead writer, adds, "We already know from Zombies, Run! that a great story can motivate people of all fitness levels to move more. I'm particularly proud of the immersive world we've created in The Walk -- with engaging characters and a gripping story but also a host of maps, newspaper cuttings, audio artefacts and even a comic strip you'll find to help you work out who did plant that bomb in Inverness station, and why. The Walk is designed to be addictive, in the best possible way".
The Walk is available now from the App Store and Google Play. The regular price is $4.99 (£2.99 / €4.49), but there's currently 20 percent off, so you can pick it up for $3.99 (£2.49 / €3.59).