Nokia Motion Monitor turns your Lumia 1520 into an activity tracker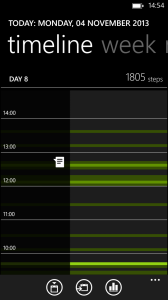 Finnish mobile maker Nokia has released a new app called Motion Monitor which allows Lumia 1520 users to track their physical activity, similar to some wristbands. The offering is currently undergoing beta testing and is available exclusively for the company's new Windows Phone 8 flagship.
For those wondering why Motion Monitor is not available for other Lumia smartphones, Nokia says this is because only its new flagships comes with the "specific" hardware which allows the app to offer this functionality. A reasonable assumption would be that the Lumia 1520 is the sole beneficiary of Motion Monitor because of its Qualcomm Snapdragon 800 processor, which is not available in any other Nokia smartphones at the moment.
Motion Monitor will track the user's physical activity "based on [their] motion and steps". The results will be displayed on a timeline (shown in the screenshot to the left), which details the daily activity and a step counter. It integrates with the Glance screen (information displayed on the screen while the smartphone is locked) and lockscreen, supports live tiles, and also provides insights.
Nokia says that, even though the app runs in the background, Motion Monitor does not consume significant amounts of energy, so battery life should be mostly unaffected.
Unlike a dedicated wristband which can be worn while sleeping, the Lumia 1520 cannot be used (at least not comfortably) in the same scenario, making its usage case significantly more limited. Other manufacturers, like Samsung, have already offered similar functionality so it will be interesting to see whether Nokia brings something new to the table (I do not have a Lumia 1520 to test this, but if you do let us know how it is working for you in the comments section).
Motion Monitor is available to download from Windows Phone Store.