Target warns of unauthorized access to payment card data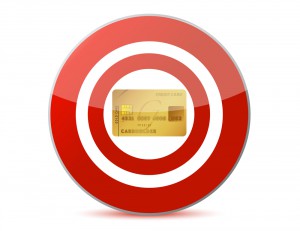 If you've recently used your payment card in a Target store in the US you might want to check your statements carefully. In a statement on its website the company warns that "guests" who made card purchases in its stores between November 27 and December 15 may have had their card data compromised.
My colleague Brian Fagioli who bought his iPad at Target on the December 14 is now anxiously biting his nails as his could be one of the estimated 40 million cards that may have been affected.
Target's statement says, "We began investigating the incident as soon as we learned of it. We have determined that the information involved in this incident included customer name, credit or debit card number, and the card's expiration date and CVV (the three-digit security code)".
The company says it's working with a third-party forensics firm to conduct an investigation and that it has alerted the authorities and financial institutions. In the meantime it recommends that customers -- sorry, guests -- stay alert for suspicious activity on their accounts. It helpfully provides a list of resources including credit reference agencies and various state law enforcement bodies.
Target says the issue has now been resolved and that it only affects US stores. If you've used a Canadian store or purchased via the website your information is not at risk. If you do spot a suspicious transaction, REDcard holders should contact Target, other card holders should get in touch with their bank.
Photo Credit: alexmillos/Shutterstock