Happy holidays! Google Play gives away Elf for free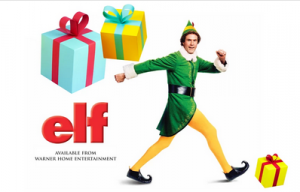 Regardless of your beliefs, it's rather difficult to resist a good Christmas movie. There is something soothing about gathering the family around the TV to watch that annual classic, be it Miracle on 34th Street or National Lampoon's Christmas Vacation. Neither is new, but neither ever seems to get old.
Elf is also no longer particularly new, having been released back in 2003 when we all ran Windows XP, and Google hadn't yet thought about Android or the Play market.
But fast-forward to now and the search giant is gifting users with a free copy of that Will Ferrell-Zooey Deschanel classic flick. I'll spare you the plot, as you've either seen it or don't wish to have it spoiled. Suffice it to say that humor is involved, and you'll even be treated to Deschanel's voice -- remember, she is a musician, as well as actress.
Google doesn't specify how long the offer is good for, preferring the rather vague wording of "a limited time". In other words, you will want to grab it sooner, rather than later. It's also a US-only offer.