Winamp is dead, Spotify tries to resuscitate it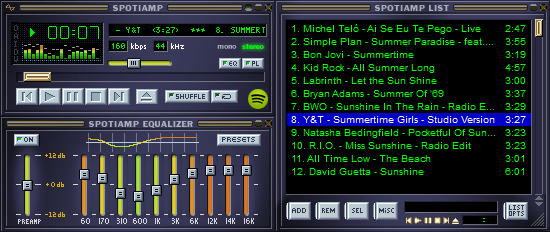 You've known for a month, providing you cared enough to notice the news. AOL announced that its once prominent media player, Winamp, would cease to exist on December 20, 2013. But before the obituary can even be written, music streaming service Spotify has stepped in with its own tribute.
Today the company announces Spotiamp -- "to honour the engineering skill and passion that goes into building wonderful software that millions of people enjoy we would like to share a small tribute to honor the great legacy of Winamp".
The website describes it as "a Windows program that lets you login to your Spotify account and listen to your playlists. You can also search for tracks to play, and there's a radio feature. Spotiamp borrows the design of the UI from Winamp, an excellent MP3 player back in the day. Spotiamp aims to be resource efficient and perform in a really fast and snappy way".
It almost sounds like a joke, but Spotiamp is quite real -- you can download all of the retro goodness as of this moment. And yes, when I say retro I mean that. Spotiamp looks eerily like its near-namesake, meaning a piece of software that has just stepped out of the 90's, but with some modern ingenuity. Heck, it even has a built-in Shoutcast server for streaming to other devices that support the platform, such as Sonos.
There is a catch however -- you will need to be a premium Spotify customer in order to follow this path down memory lane.