Adobe releases Flash Player 12 and Air 4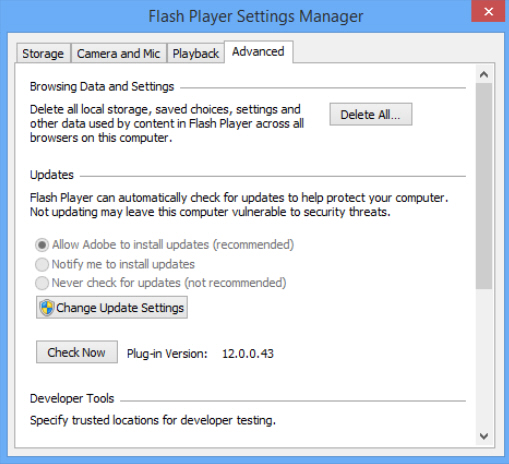 Adobe has unveiled three major updates with the release of Adobe Flash Player for Other Browsers 12.0, Adobe Flash Player for Internet Explorer 12.0 and Adobe AIR 4.0.
The new versions of Adobe's cross-platform web media playback and runtime tools will initially appeal more to developers, but should have benefits for end users going forward when apps are released that take advantage of some of the new features.
No official release notes have yet been provided, but according to the notes released alongside the final beta release, Flash Player for Internet Explorer 12.0 adds support for Windows 7 users running Internet Explorer 11. Note that this version of the plug-in is not compatible with Windows 8 or 8.1 -- instead, Flash Player for Windows 8 is included within the OS itself.
Version 12 also extends support for Safe Mode in Safari to Safari with Safe Mode 6.1, which implements new security restrictions on how browser plugins -- including Flash -- operate.
Those wanting to try out a 64-bit version of Flash Player for Google Chrome should note that Flash is built into Chrome, those wanting to test this should take a look at the Canary channel.
Those features that will especially appeal to developers may -- if the feature made it out of beta -- include an improved packaging engine for iOS apps built using Flash that promise improved times of up to 10 times over the previous release.
Also added is support for Android 4.4 (KitKat) on the Adobe AIR platform, while a new feature called Android Workers has been implemented in AIR 4.0 that should improve performance for end users when implemented by developers.
One final notable change is improved support for Mac .pkg files, which were introduced in version 3.9 to ease deployment on a larger scale. The updates should also implement the latest security fixes while squashing various bugs.
This release marks the last time Adobe AIR's version number will be different to Flash Players – when version 13 of Flash Player is released, due next quarter, Adobe AIR's version number will be synchronized with it.
Adobe Flash Player for Other Browsers 12.0.0.43 and Adobe AIR 4.0.0.1390 are both available now as a freeware downloads for Windows and Mac. Also available is Adobe Flash Player for Internet Explorer 12.0.0.43 for PCs running Windows 7 or earlier (Windows 8 users are delivered updates through the OS).