Rankaware checks your site's ranking on Google, Bing, Yahoo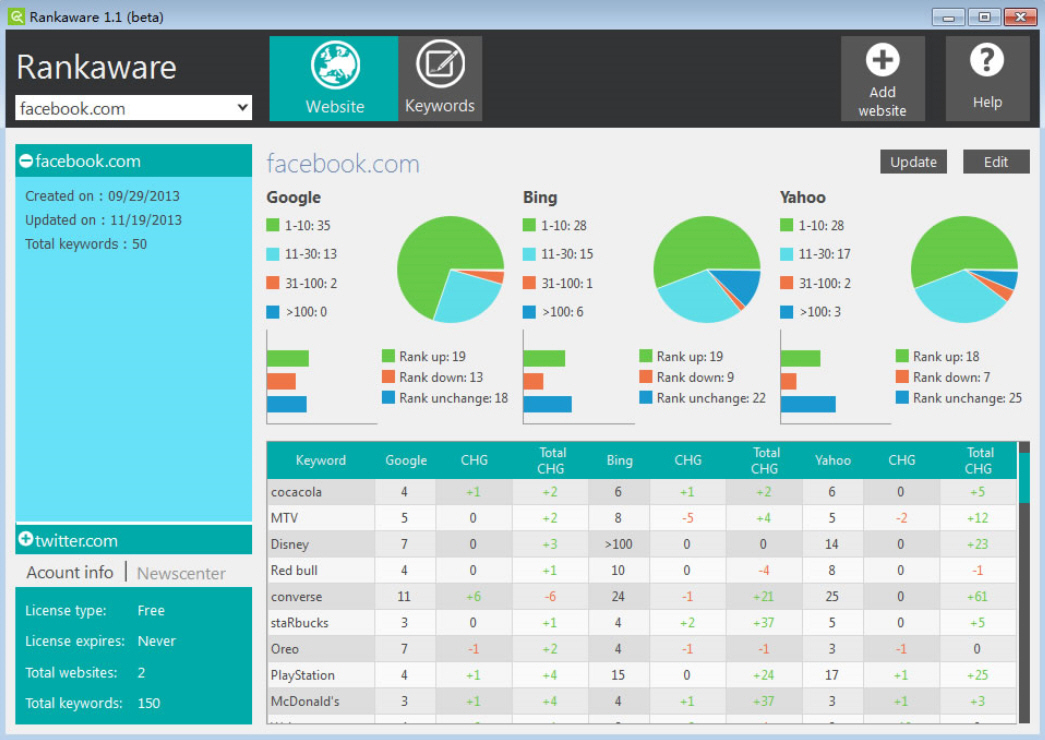 If you have a website then you can spend a very long time optimizing it to get the best possible search engine rankings. But it's a complicated process. Other sites will be doing the same thing, and search engines are tweaking their algorithms all the time, which makes it difficult to assess how well you're really doing.
Rankaware is a free tool which can help by checking your site's rankings for multiple keywords on Google, Yahoo and Bing, compiling an attractive report to show how this is changing over time.
The program installs quickly and easily, without any adware or other annoyances. On first launch you're presented with a simple Windows 8-like interface, all colorful panes and flat buttons. Options are kept to the bare minimum and you'll figure out what to do within seconds.
Setting up your first website, for example, is just a matter of entering your site URL, the keywords you'd like to check, and the search engine region to query (google.com, google.co.uk, google.co.jp and so on). Click Done and Rankaware quickly checks your rankings, displaying the results in a graph and table.
You'll then have to run more checks to see how your rank is changing, of course, and there's no way to do this automatically. Instead you must relaunch the program, click the Update button and wait for the results; not exactly difficult, but a minor hassle.
The on-screen reports look good, but if you'd like to share the results with others then they can also be exported as a CSV or PDF file. The latter can be customized with a company name, logo, Facebook and Twitter link. It also includes a "Report generated with myrankaware.com" line, though, so might not be something you'd want to use for serious business purposes.
There are obvious limitations here, and we'd guess that a commercial "Rankaware Pro" edition will appear eventually with update scheduling, ad-free reports, and so on. But in the meantime, if you're happy to run manual checks then Rankaware provides a quick and easy way to track your website's keyword rankings.