Chrome 32 gains tab indicators, automatic blocking of malware files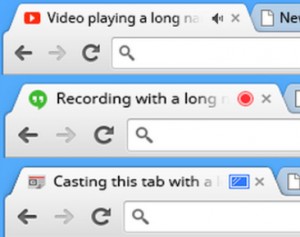 Google has released Google Chrome 32 FINAL for Windows, Mac and Linux, a worthwhile update with a good mix of new and extended features.
Chrome's tabs can now include indicator icons to let you know when they're playing audio, using your webcam or being cast to your TV. And so the next time a Flash video ad kicks in, you'll be able to see at a glance where the noise is coming from.
If Chrome 32 detects that you're downloading a malicious file then it will now block it and display an alert.
Windows 8′s Modern UI Chrome has gained an app launcher, making it easier to access Chrome apps and other Chrome windows.
Elsewhere, there are new app and extension APIs, various performance improvements, and eleven security fixes.
The official "Known issues" list covers a few notable problems, too, including "Trackpad users may not be able to scroll horizontally", "Chrome conflicts with Norton Software including Identity Safe" and "Using Nvidia's Stereoscopic 3D feature turns Chrome pink" (turn 3D off to restore the normal color scheme).
Google Chrome 32 FINAL is available now.