Nokia Lumia Icon shows up on Verizon's site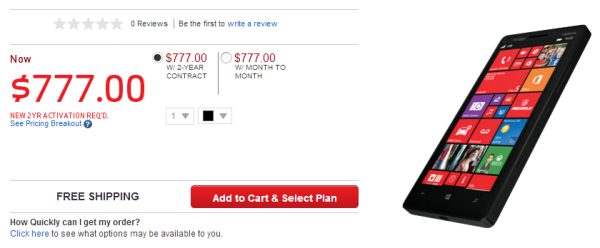 The Lumia 929 is, without a doubt, the worst kept secret in Nokia's recent history. Pictures of the new Windows Phone have appeared numerous times, leaving nothing to the imagination. Furthermore, the handset even went on sale in China, at a local online retailer with its Verizon branding, ahead of its official launch.
Also ahead of its official launch, the Lumia Icon -- known as the Lumia 929 -- has appeared on Verizon's site, revealing every detail that one might want to know about the device. As you may have read so far, this Windows Phone is allegedly a big red-exclusive offering.
The information listed on Verizon's site, regarding the price of the device, may not be accurate, as $777 sounds highly unlikely for the Lumia Icon to cost with a two-year contract. However, the other bits seem more plausible, starting with the color options -- black and white.
Here's the full specs rundown, according to Verizon: 5.0-inch OLED display with a resolution of 1080 by 1920 and Corning Gorilla Glass 3 on top; 2.2 GHz quad-core Qualcomm Snapdragon 800 processor; 2 GB of RAM; 2420 mAh built-in battery; 32 GB of internal storage; 20 MP PureView camera on the back with optical image stabilization and dual LED flash (takes 19 MP photos, with 5 MP versions for sharing) with 1080p video recording; 1.2 MP front-facing camera with 720p video recording; 4G LTE cellular connectivity; Wi-Fi 802.11 a/b/g/n/ac; Bluetooth 4.0 (with limited LE -- Low Energy -- support) and NFC. It supports the ISIS Mobile Wallet, wireless charging support and runs Windows Phone 8. Needless to say, the Lumia Icon offers a slew of Nokia-branded apps and services. The device comes in at 136.9 x 70.9 x 9.9 mm (5.39 x 2.79 x 0.39 inches) and 166 grams (5.86 ounces).
The specs differ when compared to the ones listed on the site of the Chinese online retailer Taobao. The latter shows the Windows Phone as having a microSD card slot and larger 3,400 mAh battery and 20.7 MP back-facing camera. Considering that Verizon's listing is not exactly official and, therefore, could include some mistakes, it is difficult to tell which one of the two is the most accurate. We will find out once Nokia takes the wraps off its new Windows Phone.