Satechi releases the Smart TV Box -- Android-powered media player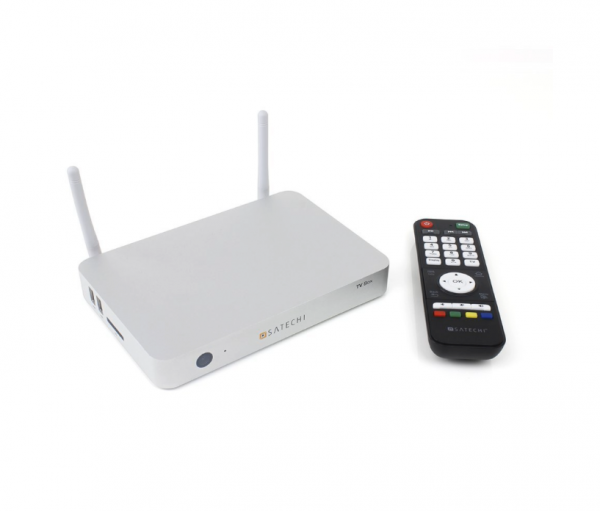 When it comes to TV, it feels like there is nothing ever on. An easy remedy for this is to buy a media box like a Roku or Apple TV. This allows you to add streaming services to your traditional "dumb" television.
Sadly, choosing such a box can be quite the ordeal -- there are too many options and prices. Ideally, you want to get the most functionality for the lowest price. A good option is to choose one that utilizes Android, as this empowers the user with access to a great deal of software such as XBMC. Today, Satechi announces an elegant Android-based solution, called the Smart TV Box.
"The new Satechi Smart TV Box, available now, is the ideal solution for users who want to stream digital media onto their televisions. The Android 4.2 based Smart TV Box provides users the freedom to download apps from the Google Play Store and stream movies, play music, access games and more on their HDTV for hours of entertainment", says Satechi.
The company further explains, "the Smart TV Box effortlessly connects to the internet via Wi-Fi or Ethernet cable. The Android-based device fully supports XBMC, which is a media management app for streaming live TV, watching movies and videos, and accessing local storage. The speedy Smart TV Box features a powerful 1.8Ghz processor, 2G DDR3 Ram, 8 GB of storage space, and has a GPU quad-core Mali-400MP4 graphics card".
In other words, this is a very capable computer connected to your TV. The ability to access the Google Play Store means the sky is the limit for features and functionality. Not only can the device stream video from places like Hulu and Netflix, but it can also connect to locally stored files via an SD card, USB flash drive or hard drive.
The company claims you can connect a USB BlueTooth dongle to interface with keyboards and mice too. However, the rear also has a microUSB port marked "OTG", so wired input devices should work as well.
Overall, it is a very attractive box that would look good in your living room. However, if you think outside the box a bit, you can see many opportunities for this hardware. It could potentially serve as a cheap desktop replacement, when married with an HDMI monitor, keyboard and mouse -- why not? You can buy it now at Amazon for a very reasonable $109.99. Tell me your thoughts in the comments.