Microsoft Q2 2014 by the numbers: Surface sales soar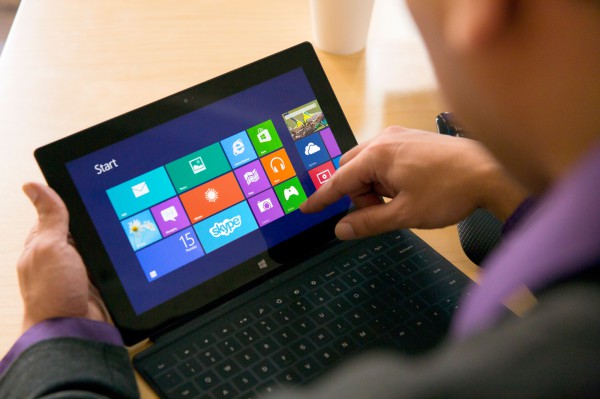 Outgoing Microsoft CEO Steve Ballmer got a vote of confidence from customers today, if Surface's sales surge is any indication. In October 2012, he refocused the company on "devices and services", something reflected in the Windows 8.1 tablet and also Xbox One, which launched during fiscal second quarter 2014.
After the closing bell today, Microsoft released long-anticipated Surface sales with its quarterly earnings report. Wall Street analysts and investors also eagerly wondered about Windows 8.1, which revenues looked to be brutally beaten back by historic declines in PC shipments. Surface revenue reached $893 million, up from $400 million during fiscal first quarter. Meanwhile, Windows OEM license sales declined by 3 percent, year over year.
For fiscal Q2, ended December 31, Microsoft revenue was $24.52 billion, up 14 percent year over year. Operating income: $7.97 billion, a 3 percent increase. Net income was $6.56 billion, or 78 cents a share. All figures are GAAP. However, when adjusting for pre-Windows 8 sales a year earlier, revenue rose by only 11 percent, while operating income and EPS both fell by 4 percent.
Average analyst consensus was $23.68 billion revenue and 68 cents earnings per share, for the quarter. Revenue estimates ranged from $23.26 billion to $24.3 billion, with estimated year-over-year growth of 10.4 percent. So Microsoft beat even the Street's high estimates.
Defying the PC's Gravity
The healthy revenue and profit performance validate Ballmer's "devices and services" bet, as the company seeks to divest dependence from an increasingly volatile PC market. Globally, personal computer shipments slumped 6.9 percent during calendar fourth quarter, which is concurrent with Microsoft's fiscal second, according to Gartner. IDC puts the decline at 5.6 percent, both huge numbers for a holiday quarter. Gartner describes shipments as "the worst decline in PC market history".
Mikako Kitagawa, Gartner principal analyst, explains the problem: "Strong growth in tablets continued to negatively impact PC growth in emerging markets. In emerging markets, the first connected device for consumers is most likely a smartphone, and their first computing device is a tablet. As a result, the adoption of PCs in emerging markets will be slower as consumers skip PCs for tablets".
Analysts, Microsoft, and PC manufacturers had banked on emerging markets making up for declines in more mature ones, like Europe or the United States. Instead, for many buyers, the personal computer is no longer an option.
While Gartner believes the U.S. PC market has bottomed out declines, Christmas shoppers looked elsewhere. "Holiday sales of technology products were strong in the U.S. market, but consumer spending during the holidays did not come back to PCs as tablets were one of the hottest holiday items", Kitagawa says.
Building Positive Perception
There's the major reason for Wall Street's watchful eye on Surface -- not just a tablet but one Microsoft makes. Windows' future increasingly belongs to the slate, and Surface promises the tightest hardware-software-cloud services integration of any model running the operating system. Microsoft needed to deliver Wall Street good news today and indication that the company has a future in the so-called post-PC era, which I define as the contextual cloud computing era.
As I so often say, in business perception is everything. Hence the company's change in reporting, which aligns better with the devices-and-services mandate while obscuring some of the flailing PC market's impact on Windows. Before fiscal 2014, Microsoft reported by product category, such as Windows or Business (which includes Office). Now: Devices and Consumer Licensing; Devices and Consumer Hardware; Devices and Consumer Other; Commercial Licensing; and Commercial Other.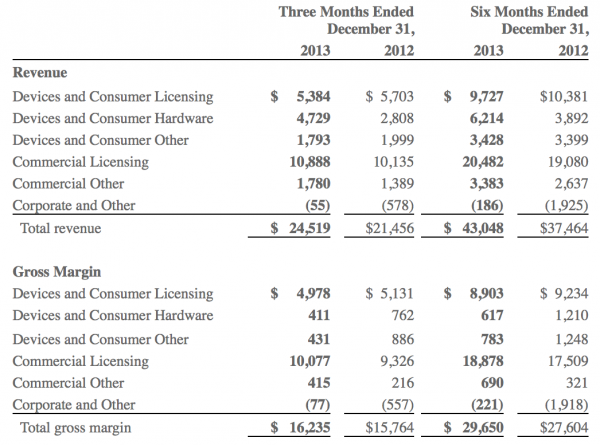 Still, Wall Street's obsession with Windows remains, and the news isn't all bad. During fiscal second quarter, while declining PC shipments rapped overall OEM sales, commercial license sales rose, for a couple reasons. In April, Microsoft formerly ends Windows XP support, a circumstance compelling many organizations to upgrade -- some kicking and screaming. Additionally, a natural corporate upgrade cycle overlaps with modest economic recovery. That's particularly good for sales of Windows Pro OEM, which grew 12 percent year over year.
"Our Commercial segment continues to outpace the overall market, and our Devices and Consumer segment had a great holiday quarter", Ballmer says. "The investments we are making in devices and services that deliver high-value experiences to our customers -- and the work we are doing with our partners -- are driving strong results and positioning us well for long-term growth".
Divisional Performance
Devices and Consumer Licensing. As previously stated, overall Windows OEM revenue fell by 3 percent, but the non-Pro revenue decline was huge -- 20 percent. When removing China, where smartphones are the hot tech purchase, non-Pro fell just 14 percent.
Consumer Office revenue jackknifed 24 percent, but the shift to Office 365 Home Premium accounted for 16 points of change. Any shift to Office 365, which is one of Microsoft's key services adaptions, is long-term good.
Not surprisingly, year-over-year revenue fell by 6 percent.
Devices and Consumer Hardware. Microsoft sold 7.4 million game consoles -- 3.9 million the new Xbox One. That's just in five weeks.
Xbox One's sales success is a mixed benefit. While the division's revenue rose by 68 percent, gross margins fell by 46 percent.
Devices and Consumer Other. Microsoft ended the quarter with 3.5 million Office 365 Home Premium subscribers. While relatively modest compared to the larger Office install base, these consumers pay annually if they want to keep using the software. That's steady revenue for Microsoft.
Xbox Live transactional revenue rose by more than 25 percent.
Compared to fiscal Q2 2013, the division underperformed, with revenue down 10 percent and gross margins off by 51 percent.
Commercial Licensing. Microsoft's core competence is business, and customer allegiance remains strong. Windows commercial revenue rose by 10 percent, while SQL Server Premium grew by more than 25 percent.
Divisional revenue rose by 7 percent.
Commercial Other. In another validation of Microsoft's device-and-services push, cloud services revenue shot up 107 percent, while net seats for Azure, Dynamics CRM, and Office 365 soared by 100 percent.
Divisional revenue rose by 28 percent.
Combining some data for both segments, commercial Office revenue rose 10 percent year over year, while server products grew by 12 percent.