Microsoft brings Bing Rewards to mobile -- fails to include its own Windows Phone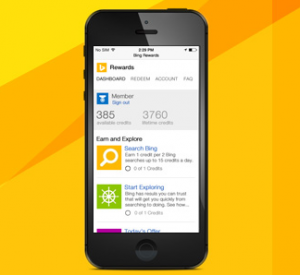 Google is the undisputed search king, but it is not the only player in town. Microsoft's Bing is a distant second, but some people prefer it. While I prefer Google's offering for search, I like Bing for one thing -- rewards.
Yes, Bing Rewards is pretty darn cool, as it provides perks to users for simply using the service. This is a win-win relationship as users earn points for searching and Microsoft gains search activity. Users can then redeem points for things like raffles and gift cards. Sadly though, the experience was not available for mobile -- until today. Microsoft releases Bing Rewards for iOS and Android. Shockingly, Windows Phone is not yet supported.
"Today we are taking our very first step to let you search and earn on the go. Available on iOS and Android devices starting today and coming soon to Windows Phone devices, we are rolling out the ability to search and earn and take advantage of offers right from your phone. Over the next several months we'll be extending nearly all of the Bing Rewards features our members love on the PC to these mobile experiences", says Alex Danskin, senior marketing manager, Bing Rewards.
Danskin further explains, "signing into Bing Rewards on your mobile phone using your Microsoft or Facebook account takes you to a new mobile optimized dashboard that has offers customized just for you. In addition to many of the offers you would find on your PC, there is a new exclusive mobile-only search offer that gives you an opportunity to earn additional credits on your phone".
In other words, all the features you love about Bing Rewards, and more, can be accessed on your iPhone or Android device starting today. However, it is not yet available for Windows Phone as said above. While the company promises it is "coming soon", this is simply unacceptable. This sends a message to both Windows Phone developers and users that the platform is not a priority -- whether that is true or not. Perhaps this shouldn't be such a surprise, as Windows Phone only commands a puny 3.6 percent market share.
Unfortunately, while you can earn the perks on mobile, you cannot yet redeem them that way -- that is still a PC-only affair. Don't despair though, Microsoft is working on adding the ability to redeem and use the rewards when on the go.
iPhone and Android users, will you try this out? Windows Phone users, are you angry? Sound off in the comments.