Pebble Steel smartwatch now available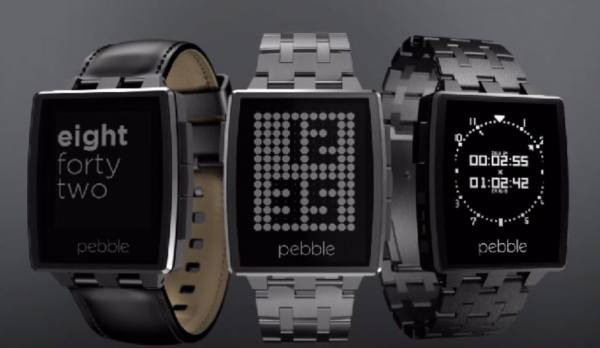 The Pebble Steel was introduced earlier this month at CES 2014 as a classier alternative to the original, plastic-made Pebble. With its steel shell, it is meant to appeal to people who want to wear a smartwatch as a daily driver, but with the sort of looks that would be suited for social events or boardroom meetings. The Pebble Steel is (also) for watch lovers who would not ever be caught with anything made of plastic on their wrist.
After making the pre-ordering rounds, the Pebble Steel is now officially available to purchase. It costs $249, which is $99 more than you would pay for the older model (the latter still goes for $150). Let us take a look at what you get for the money.
The Pebble Steel is available in just two trims, called Brushed Stainless (featured in the middle in the image above) and Black Matte (showcased to the right in the image above), each costing $249. The color palette is more restricted than that of the original Pebble, which can be had in Jet Black, Grey, Arctic White, Orange and Cherry Red. Leather straps are also offered (the image above shows one to the left).
Like many smart devices today, the Pebble Steel comes with Corning Gorilla Glass on top of its small display. This adds extra scratch resistance. The smartwatch is waterproof rated at 5 ATM (roughly 50 meters, or 165 feet) -- in practice this means that it can withstand splashes and being underwater at a couple of meters at most, but not deep sea diving.
The battery should last between five to seven days, and can be charged using the included USB cable (relies on a magnetic connector to attach to the Pebble Steel). Other noteworthy bits include an RGB LED for notifications, the low weight of 56 grams (for the smartwatch without the bracelet or strap) and physical dimensions of 46 x 34 x 10.5 mm.
The Pebble Steel supports all existing apps designed for the Pebble, and comes with the OS 2.0 firmware out-of-the-box. It is compatible with iOS (including iOS 7) and Android devices.
Pebble announced a number of partnerships at the CES 2014 unveiling, allowing users to take advantage of more apps from ESPN, Foursquare, GoPro, iControl, Mercedes, Pandora and Yelp.
Free international shipping is available, though if you want to receive it within a week you have to shell out an additional $25 (the standard shipping option lists delivery in "several weeks"). The Pebble Steel is listed as shipping in late February.