New collaboration tool gets Office workers in a Huddle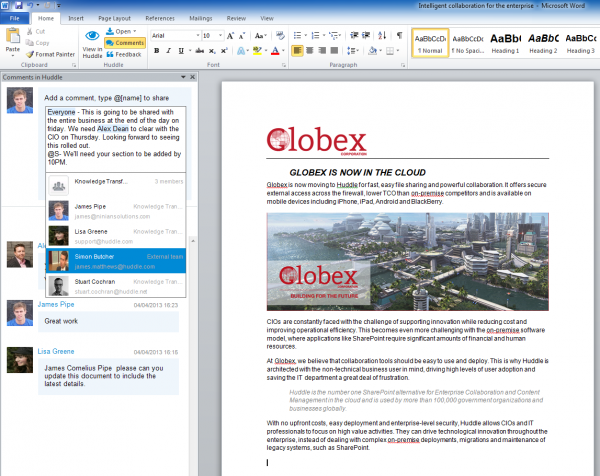 We've looked at the Huddle desktop collaboration tool, which offers a blend of productivity and social networking, in the past here at BetaNews. The company is now launching another phase of its Connected Desktop with a plug-in for Microsoft Office.
By linking the power of Office tools with Huddle's cloud collaboration service the company aims to make workers more productive. Files can be saved into Huddle's secure cloud directly from Office applications but more importantly each document has a comment stream alongside it, allowing users to provide feedback on changes and reply to co-workers in context, all without leaving Office.
"People's devices -- PCs, laptops, desktops and tablets -- are now simply a doorway to their world of work as the cloud gives them access to their files, colleagues' feedback and all the information they need," explains Alastair Mitchell, CEO of Huddle. "Skipping between the applications on your desktop and cloud service to share information and discuss files with people is time-consuming and disrupts your workflow. With Huddle for Office, you can continue working in the desktop tools you're used to, but all of your feedback, files and updates are stored and shared in Huddle's secure cloud. Connecting with the people you need to and working together on your content has never been easier".
With the plug-in installed Huddle functions can be accessed via a toolbar within Office. There's also the ability to track all comments and changes for compliance and auditing purposes. Documents are saved to a secure workspace ensuring that only authorized team members can access them. They can also be read and commented on via Huddle's tablet and smartphone apps.
Huddle for Office integration is available now, visit the company's website for more information.