NFL unveils new mobile service 'Now' ahead of Super Bowl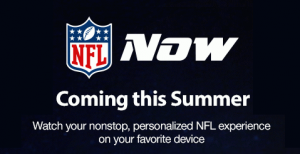 Today is a big day if you happen to be a fan of American football. It's Super Bowl Sunday, and the stage is set for the Seattle Seahawks and Denver Broncos to collide at Met-Life Stadium. The ads and the game itself, bring millions of viewers from all over the world, and the NFL has chosen this day to unveil its new mobile service.
NFL Now will be available this summer, and the league has an introductory commercial planned to air during the big game, but details about what to expect are being revealed ahead of kick-off.
The Now service promises to offer a new personalized streaming available across mobile devices, including the ability to select your favorite teams or fantasy players and get non-stop news and analysis. There is also access to video from the NFL Network and NFL Films Archive and access to gameday highlights on-demand.
Sponsors of the new service include Verizon, Microsoft, Gilette and Yahoo, so there is no real surprise in that regard. It's not readily apparent if Verizon being involved will lead to any sort of exclusivity. For now, you can sign up to receive updates by visiting NFL Now.