Corero SmartWall helps service providers strengthen their defenses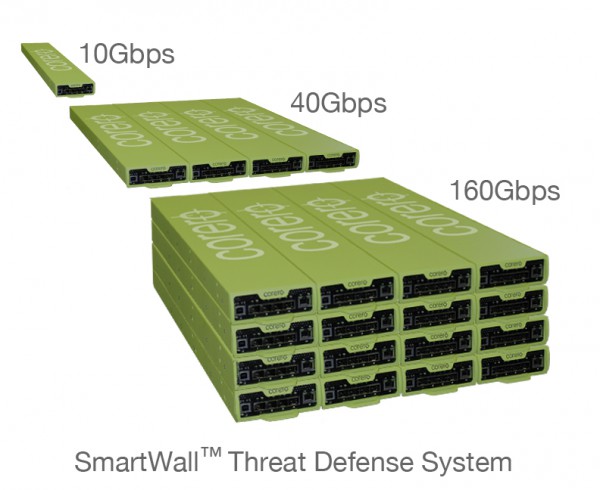 Cyber threats and in particular DDoS attacks are a major problem for both service providers and customers and have grown in both frequency and sophistication.
Corero Network Security a leader in enterprise security systems has launched a new product to help service providers fend off these threats.
Corero SmartWall Threat Defense System (TDS) aims to offer a first line of defense that's always on and provides visible threat protection to customers. It's a purpose-built family of network security appliances that can be configured to meet the needs of service providers.
The SmartWall TDS is rack mounted and comes as a series of appliances that can be used individually or clustered together. The Network Threat Defense unit guards against DDoS attacks using IP address blocking, SYN flood protection, TCP/UDP rate control and Client-Server connection limiting. Application Threat Defense, as the name suggests, protects against application threats with Deep Packet Inspection (DPI) of Layer 7 protocols and payloads in combination with behavioral anomaly detection.
The Network Forensics Appliance supports 10Gbps line rate packet capture to enable network forensics of security incidents. Finally the Network Bypass Appliance helps avoid downtime using intelligent zero power network bypass technology in the event of power or equipment failure, or during routine maintenance and configuration upgrades.
"We are excited to introduce this new portfolio of First Line of Defense solutions for service providers," says Ashley Stephenson, CEO of Corero Network Security. "Building upon our years of experience supporting enterprise customers with on-premises DDoS protection, we have now enabled service providers to similarly assist their customers in the escalating battle against cyber threats. With the addition of the SmartWall TDS, Corero is well positioned to keep pace with the evolution of the DDoS defense market and customer demands for improved levels of cybersecurity protection, both on-premises and in the cloud".
The technology will be demonstrated on Corero's stand at RSA 2014 in San Francisco. SmartWall TDS solutions will be available for trials shortly and for full deployments by the second quarter of 2014.