Quick Review: Hornil Photo Resizer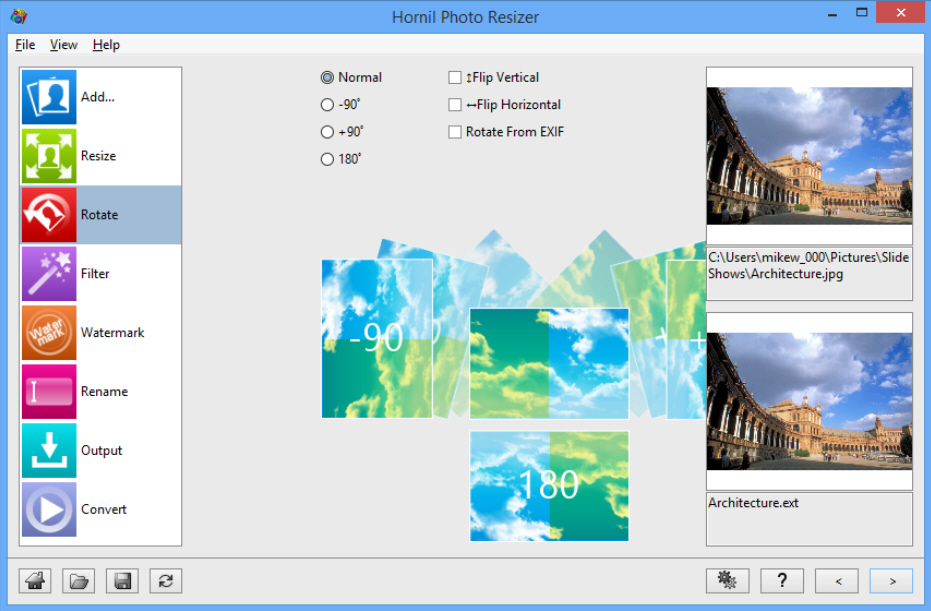 Hornil, creator of the popular StylePix editor, has released Hornil Photo Resizer, a free batch image processing tool.
Despite its name, the program isn't just about resizing images. It can also rotate and flip them, apply various filters (auto level/ contrast, sharpen, more), add an image watermark, and batch rename them according to various rules.
The Photo Resizer interface looks good, with its colorful Windows 8-style icons. Click "Add", choose your source images, and you're then able to select its various functions from the left-hand toolbar.
The core resizing function is reasonably configurable. As well as setting an image to a fixed resolution (640 x 480, for example), you can also adjust the height alone, the width alone, the longer or shorter lengths.
The batch renaming function is similarly versatile. In a click or two you can take the source file name and customize it with a date (in your choice of format), a serial number, extra text or whatever you like.
There are some surprising options. We're used to graphics tools allowing you to set your JPEG quality setting, but this goes much further. You're able to save optimized or progressive JPEGs, with your choice of sub sampling settings. You can choose the number of colors in your GIF palette, whether it's standard or optimized, perhaps setting transparency. It's even possible to strip EXIF tags from your images.
This kind of functionality doesn't apply everywhere, unfortunately, and some of the other tools are rather more basic. Most of the filters have no options, so you can add a "Sharpen" effect, but there's no way to customize how it works. We would have appreciated a text watermark option, too.
The interface has some issues. Although you're able to carry out multiple actions on an image -- resize, rotate and sharpen, maybe -- these are all configured in separate panes, and there's no single place where you can view everything you've asked the program to do.
The lack of documentation is another problem. As we write, clicking Help > Quick Start Guide takes you to the guide for a different program, while Help > Online Manual just displays an error message.
Still, Hornil Photo Resizer does have some promise. You can already use it to quickly rename and resize a batch of photos. There are useful configuration options on hand. The program is free, with no adware or other hassles, and with a little more development it's going to be a very capable batch photo processing tool.