Windows 8.x STILL seriously underperforming compared to Windows 7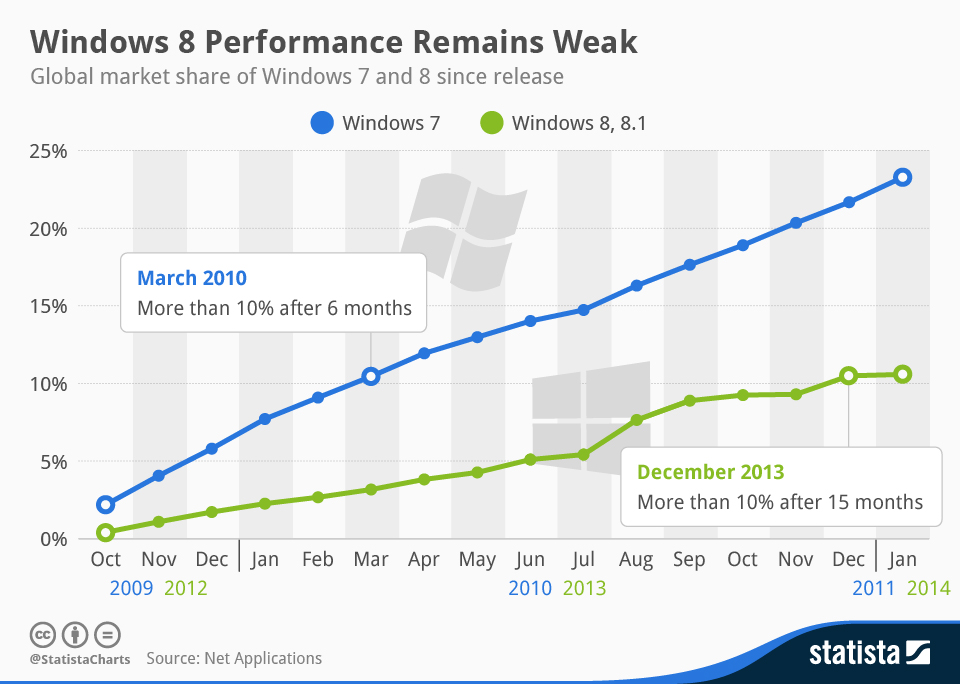 Windows XP gained a little market share in January -- making for a nice, fun headline -- but the real point of that story is how poorly Windows 8.x appears to be doing. Despite being backed by an incredible advertising and marketing push its adoption rate really is pretty awful.
Two months ago Statista compared the global market share of both Windows 7 and Windows 8.x following their respective launches, plotting the results on a graph, and as I said at the time the difference was stark. Windows 7 showed a steep upwards trend, while Windows 8.x appeared to be heading for a plateau. Statista has since updated its chart, and the difference in fortunes between the two operating systems is now even more pronounced.
While Windows 8.x took 15 months to claim over 10 percent market share, Windows 7 broke that barrier six months after it was released, and was well on its way to claiming 25 percent 15 months after launch.
The blue Windows 7 line on the chart shows, as before, a solid rocket like trajectory, while the green Windows 8.x line is tailing off like a sputtering firework. In NetMarketShare's monthly breakdown of desktop OS market share, Windows 8.x managed to grow by under 0.1 percent in January, which isn't good news for the tiled operating system. Can Windows 8.1 Update 1 give the divisive operating system the kick it needs? It seems unlikely.
Windows 8.1 was a massive improvement over Windows 8, but no one has rushed to buy it. Where is the upward spike the launch of a new OS should generate (the update was released on October 18 2013)? It's entirely absent.
As I've said before, it's easy to make excuses for Windows 8.x's failure. Windows 7 benefited hugely from following the half-baked Windows Vista, and XP users were, in the main, happy to upgrade to the newer OS. Windows 8.x is struggling to follow the hugely popular Windows 7, but the alien interface and negativity surrounding the tiled OS really isn't helping.
The bump Windows 7 got from Vista is not to be underestimated, but neither is the amount of money Microsoft is pouring into promoting "New Windows". Windows 8.x is viewed, and for the most part promoted, as a touch OS, but with the vast majority of Windows users still using a keyboard and mouse that really isn't the right move.
With the concessions made in Update 1 for non-touch users (Windows Store apps on the taskbar, a menu bar on apps, and a right-click context menu in the Start screen -- not to mention the rumored boot to desktop default behavior), Microsoft seems finally to be making its new OS more appealing to users of the old one(s). But is it enough, or has the damage been done?
Unless we start seeing commercials showing people using Windows 8.1 on older hardware, with a mouse and keyboard, I don't think the new OS will be troubling Windows 7's on-going dominance any time soon…
Photo credit: Igor Kovalchuk/