Google launches Chromebox for Meetings -- Hangouts on steroids for businesses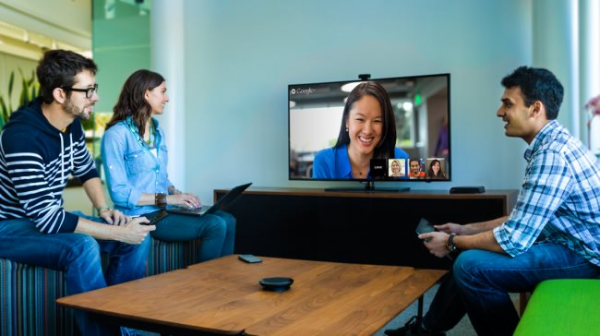 Actual, real-life meetings are just so passé! In fact I have hardly met up with any of the people I work with in person -- we are living in the digital age, man! But the likes of Skype and FaceTime show that there is still an interest, even a need, for virtual face-to-face time, and this is particularly true for businesses. Conference calls are easy to set up on the phone, but there are times when it really does help to see what's going on at the other end. Today Google takes the wraps off its solution: Chromebox for meetings.
As you would expect from Google, and probably guess from the name, this is a box running ChromeOS. Powered by a 4th generation Intel Core i7 processor, there are four USB 3.0 ports as well as HDMI and DisplayPort++ connections, and network connectivity is provided by an Ethernet port as well as an 802.11 a/b/g/n WiFi adaptor. Also provided is an HD camera, a mic and speaker combo, and a remote control.
In a sense, this is Hangouts on steroids, brought to enterprise -- it's basically a fancy, and none too cheap -- video-conferencing system. Coming from Google, the integration with Google apps is to be expected. Meetings can be controlled from an online management console, and participants can be invited to a meeting through Google Calendar. Not everyone involved has to have a Chromebox for Meetings of their own, as meetings can be joined by anyone with a Gmail account.
So far, Dell and HP are also on board, with the latter announcing their first Chromebox for Meetings today. For the time being there is only the ASUS device available, priced at $999. To start with, this is a US-only product, but there are plans to launch in Australia, Canada, France, Japan, New Zealand, Spain and the UK. The purchase price includes $250 for the first year's "management and support fee", but this is an extra annual fee that will have to be paid for continued usage. Only time will tell whether this new system manages to replace the humble telephone conference call, or indeed a simple webcam.