Pandora enters the music promotion business with Open Music Submission service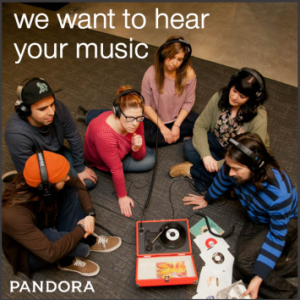 The struggling musician is an almost iconic figure in today's culture. For every one that makes it, thousands sadly fail. Having talent is obviously the biggest key to success, but even that sometimes isn't enough. It needs to be combined with a bit of luck to get noticed.
Pandora wants to try and help open doors for these folks by getting their music out into the world and into the ears of potential fans. Today the streaming service unveils its new Open Music Submission Process. "Our goal is to enable every talented artist to reach the audience they deserve, without regard to the style of their music or their popularity", says Pandora founder Tim Westegren.
Westegren notes the hurdles faced by independent artists in today's world of media overload, and the need to get this material out to a wider audience to let it soar or fall on its own merits, and not because a big label didn't give it a chance.
Pandora boasts 80 million listeners per month, so the potential is there to get heard. Westegren points out that last year "over 10,000 artists each reached more than 350,000 unique listeners on Pandora (up from 250,000 the year before)".
If you have a recording you wish to try and get out to the masses, you can head over to submit.pandora.com to begin the process. Maybe we will all be listening to you soon.