Here is LG's new G Pro 2 phablet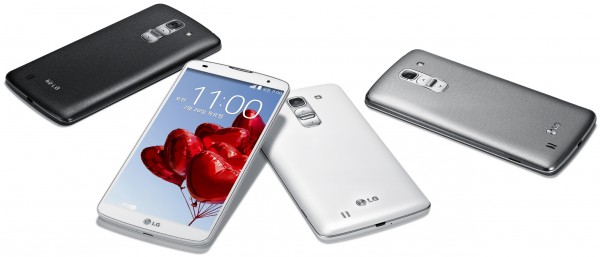 There is a tendency among smartphone manufacturers to release new handsets that come with larger screens than their predecessors. Their belief is, apparently, the bigger the better. There is also no visible concern over usability. That especially holds true in the Android world, where we see some of the largest smartphones -- also known as phablets -- around, with their sole purpose, more often than not, being to dwarf what they are replacing. The upside is this trend is catching on among consumers, who are buying more and more phablets each year.
At the same time, in an attempt to steer clear of any unwanted feedback, some manufacturers try their best to negate the effects of the larger displays over usability by resorting to smaller bezels and adapting the software to match the sheer size. A good example of this is the new G Pro 2 phablet, that LG just revealed to offer some interesting hardware and software features.
The first is Knock Code, which, LG says, is the evolution of the KnockON it introduced alongside the G2, that allowed users to unlock their smartphone by double-tapping on any area of the display. The latest iteration supports up to 86,367 "knock" combinations (as LG calls them). The upside, for something as big as the G Pro 2, is users do not have to stretch their fingers to reach the power button (that, as you can see in the image above, is placed on the back, under the camera module).
"Knock Code is an example of LG bringing simpler, more convenient solutions to consumers' mobile lives", says LG CEO Dr. Jong-seok Park. "Whereas in the early years of smartphones it was a contest to see how many features could be stuffed into the phones, our researchers took a long, hard look at how consumers were really using their devices in their daily lives and included just the most useful UX features. We think customers will agree".
LG also tried to minimize the effect of the large screen in the G Pro 2 -- which is a 5.9-inch panel -- by employing an "extra slim bezel", that is only 3.3 mm thick (obviously, it refers to the side bezels). According to the company, its latest smartphone has an "industry-leading screen-to-frame ratio of 77.2 percent" (though the number is not going to excite anyone).
A feature that will interest more potential buyers is the optical image stabilization (proprietary, called OIS+) for the 13 MP back-facing shooter. It now includes software stabilization features to complement the hardware. The company adds that both the front and the rear camera sensors are larger, rivaling the size of the ones included in point-and-shoot cameras. This should, theoretically, yield better image quality.
The G Pro 2 adds 120 FPS video recording at 720p with slow motion, which, coincidentally or not, matches that of the iPhone 5s, 4K video recording using the back-facing camera, the option to adjust the depth of focus or have everything in focus, a "natural flash" which, again, is something we have seen the iPhone 5s touting, a flash for selfies, and burst shot mode for up to 20 continuous images.
The Android smartphone, which ships with KitKat, also offers a number of new or upgraded software features, like Gallery Collage, Content Lock (can lock files with a password), Mini View (can shrink the screen to anywhere between 3.4 to 4.7 inches, for one-handed use) and Dual Browser (which allows users to have two browser windows opened simultaneously).
By now you can probably tell what the other specs are: 5.9-inch IPS display with a resolution of 1080 by 1920, 2.26 GHz Qualcomm Snapdragon 800 processor with 3 GB of RAM and Adreno 330 GPU, 16 GB or 32 GB of internal storage, microSD card slot, 2.1 MP front-facing camera, 4G LTE and HSPA+ cellular connectivity, Wi-Fi 802.11 a/b/g/n/ac, Bluetooth 4.0 and NFC. The G Pro 2 comes in at 157.9 x 81.9 x 8.3 mm and 172 grams.
The G Pro 2 will be available in South Korea at first, with international availability "not yet [...] determined". The phablet will be offered in three color trims, Silver, Titan and White. There is no word on pricing at this point.