Star Wars finally comes to Netflix streaming -- sort of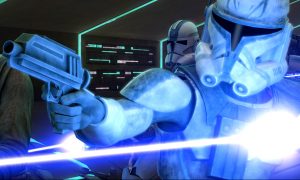 In the technology community, we have quite a few nerds and geeks (myself included). These types of people often like the same things -- video games, Mountain Dew and Star Wars to name a few. The problem is, media on discs, like DVD or Blu-Ray, are old hat; streaming media is where it's at.
And so, when it came to the Star Wars franchise, it was very disappointing that it was not available on Netflix streaming. Today however, this changes as Star Wars comes to the streaming service. Before you start rejoicing, please know, these are not the films you are looking for.
"The Galactic Republic, Disney/ABC Television Group, Lucasfilm, and Netflix Inc. today announced the highly anticipated debut of the sixth and final season of the Emmy Award-winning series Star Wars: The Clone Wars exclusively to Netflix members in the US and Canada on Friday, March 7", says the official Star Wars website.
The site further explains, "accompanying the 13-episode new season dubbed 'The Lost Missions' will be the entire Star Wars: The Clone Wars saga, which includes several director's cut episodes never seen on TV as well as the feature film. This multi-year agreement also makes Netflix the exclusive subscription service for the entire Star Wars: The Clone Wars series".
Sorry Star Wars fans, these are not the iconic films, but instead the animated Clone Wars TV series. However, even though it is animated, it is not a children-only affair. Many adults enjoy the show, so you should not write it off.
This announcement is particularly exciting as it is the first time ever that official Star Wars content is available to Netflix streaming users. Hopefully, this is just the beginning, and this is foreshadowing a future where episodes IV, V and VI are available wherever an internet connection is handy.
Will you watch Clone Wars on Netflix? Tell me in the comments.