Social media gets cooking with Chef's Roll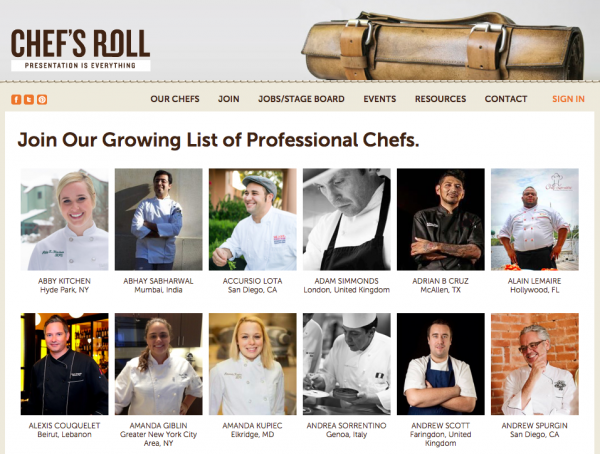 The world of social media has exploded -- there are countless sites like Facebook, Twitter and Google Plus to name a few. One problem with these sites, is that they are not focused. In other words, they exist to encapsulate all topics. That is good and sometimes better, but some people may prefer a network that is dedicated to one topic. After all, if you are passionate about one thing, everything else can be noise.
This is particularly true of chefs -- they are passionate people that dedicate themselves to preparing, cooking and presenting their dishes. While a site like Facebook could store pictures of meals and cooking techniques, there is a good chance that it will be lost among the sea of cat videos and chain letters. And so, Chef's Roll has been born.
The company explains that it is a "platform where chefs can tell the full story of their culinary life, both visually and through the written word, through a simple online tool: a Facebook-LinkedIn-Craigslist hybrid, but with more bells and whistles. Chef's Roll is endorsed by top chefs including New York's Cedric Vongerichten and David Burke and Los Angeles' Taji Marie and Fabio Viviani. It brings a chef's career goals within reach by providing a clean, succinct and beautiful platform for sharing the breadth of their culinary story".
"The quality of a chef's online presence almost never matches the quality of their cuisine. Thus, we're building the largest professional chef network in the world, where chefs are able to promote their talent, career achievements, unique style and more through this interactive, cost-effective and sophisticated tool. Chef's Roll was developed out of our respect for chefs and what they do best", says Chef's Roll co-founder Thomas Keslinke.
The social network explains some of the things chefs can share:
Skills and expertise
Upcoming events
Education and experience
A synopsis of the type of cuisine they specialize in
Photos and videos
Awards and accolades
Client reviews
Links to print online and television press
Both established and up-and-coming chefs should be able to take advantage and use this to further their careers. However, unlike most social networks, this is not free. Users must pay $19 per month or $99 per year. This actually seems reasonable, as it creates a digital and interactive hub for your brand.
Are you a chef? Will you take a bite out of Chef's Roll and join? Tell me in the comments.
Image Credit: stockyimages / Shutterstock