Format, partition, back up, clone and manage your drives with CloneDisk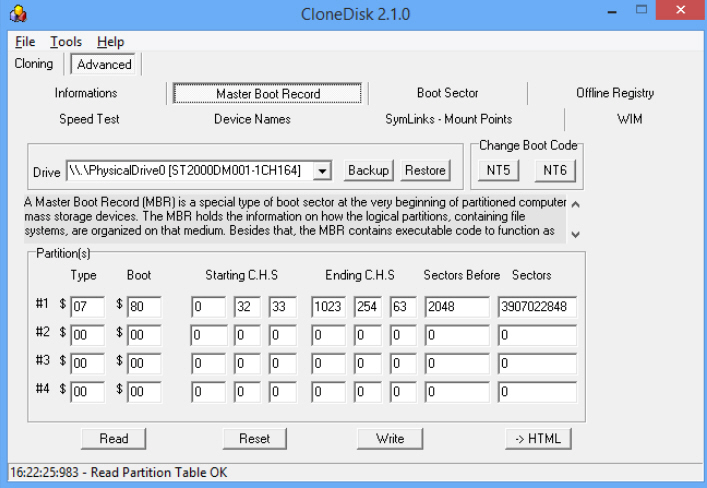 If you regularly troubleshoot other people's PCs then you'll know you can't rely on them having the programs you need. It's much better to build up a portable toolkit of your own, something you can take anywhere and which (hopefully) will help you cope with just about any situation.
Finding the right tools can be a challenge, of course -- most just don't have the versatility you need -- but a quick glance at its feature list suggests CloneDisk could be a very good candidate.
The program is an image backup and disk cloning tool, for instance. It can format and partition a drive, extend or shrink a volume. And you get options to securely wipe a drive, edit the partition table, save and restore the master boot record/ boot sector, read devices with bad sectors, run drive speed tests, and carry out various operations with VHD, RAW, VMDK and ISO images.
Sounds appealing, right? But beware. This isn't some mainstream backup tool for regular PC users. There's no colorful drive map here, no helpful wizards. Not even a Help file. CloneDisk is aimed squarely as PC experts who already know what options like "Close handles", "Set Volume Offline" and "Delete Disk Layout" are going to do, and everyone else should leave the program very much alone.
Even if you know what you're doing, CloneDisk isn't always straightforward. If you forget to launch it as an administrator, for example, the program doesn't clearly point that out: instead we saw misleading "handle is invalid" error messages. And the "Change boot code" option just crashed the program, every time we tried it.
Despite this, there's a lot to like about CloneDisk. It provides a host of hard drive manipulation functions in a tiny portable package, and while the program has issues, they're being addressed with regular updates. On balance, we think it deserves a place in every geek's technical toolkit.