Google becomes the official voting platform for American Idol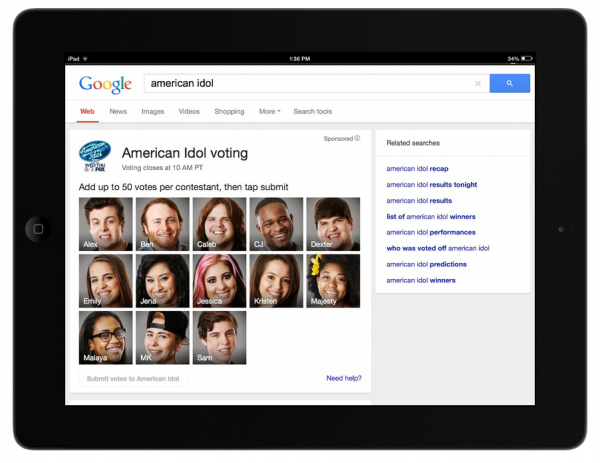 Music is my biggest hobby and passion. Whether happy or sad, it helps enhance my moods. When I am feeling good, I may put on some Ben Folds Five and conversely, Radiohead when feeling blue. Believe it or not, I also like Hip-Hop and Country.
Even though I love music, I have never been a huge fan of American Idol. This is surprising, as it is a wildly popular singing competition. However, I am a fan of one aspect of the show -- the voting. I love being empowered to pick a winner, regardless of the competition. Today, Google announces a partnership with FOX and American Idol to make voting even easier.
"Calling all American Idol fans! Tonight marks the beginning of American Idol's live finalist performance shows. Now, for the first time, you can vote for your favorite performers directly from Google. We've partnered with FOX to serve as an official voting platform for Idol and you can vote for Idol finalists on Google from your phone, tablet, or desktop", says Ardan Arac, Google.
Google lists the following steps to vote:
Search -- Visit google.com or use the Google Search App (iOS and Android) and search for [american idol] or [idol] during the voting window and select from your favorite finalists.
Vote -- Add up to 50 votes per contestant. You can select your favorites and submit your picks, directly from Google. You can vote for as many contestants as you want.
Submit -- Click submit to send your votes to American Idol. Then watch Idol videos on YouTube, share on Google+, or go back and vote for another contestant if you haven't yet.
So, even if you think American Idol is lame, you must admit that it is cool to vote through Google. I will be watching tonight so I can test the process. Who knows, maybe my vote will be the one that helps pick the next great singing sensation!
Are you a fan of American Idol? Tell me in the comments.
Image Credit:  s_bukley/Shutterstock