Nokia subtly mocks Samsung for blurry Oscars selfie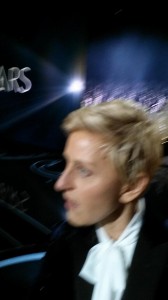 Samsung's Galaxy Note 3 was the tech star of this year's Academy Awards, as the phablet was used by both Bradley Cooper and Ellen DeGeneres to snap two of the most popular pics at the event. Ironically, both photos are blurry (and, might I add, appear to be part of heavily staged acts).
Quick to take advantage of the free publicity, arch rival Nokia has subtly taken a stab at Samsung for the terrible quality of one of the photos, namely DeGeneres' selfie on the stage.
Even with the appalling blur, the photo so far managed to get more than 168,000 retweets and 251,000 favorites on Twitter. (People, apparently, appreciate the moment more than the quality of the image.)
Nokia's US arm tweeted "Let's do away with blurry photos, Ellen! | @TheEllenShow #Oscars #Blessed #blurry", seemingly comfortable that its smartphones would have fared much better. Seeing as you are reading this on BetaNews, a technical explanation of the mishaps ensues.
The reason for the two blurry pics lies in the front camera of the Galaxy Note 3, which was used to snap both photos (after all, how else could that Samsung logo be seen by everyone watching the show?).
It, like front-facing cameras on many other smartphones available today, does not offer optical image stabilization to compensate for shakiness, hence the blur in the photos (more visible in the selfie than the group shot taken by Cooper).
Nokia may offer OIS in some of its smartphones, but none of those also pack the technology in the front-facing camera unit. So the results could have been the same no matter the brand of the device. Sadly for Nokia, not as many people cared about its message, compared to Ellen's, as its tweet only got 86 favorites and 239 retweets so far.