Linux desktop environment Mate achieves 1.8 release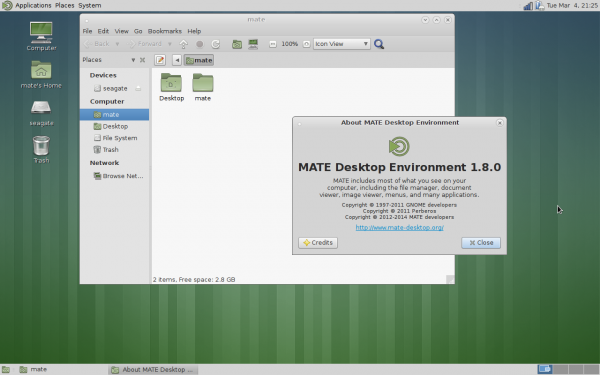 Linux users do not like change. Well, actually, they do not like change for the sake of change. If something works, they typically hang on to it until something truly better comes along. A good example of this is GNOME 2. People love it and it works well. However, the GNOME Project moved to version 3 and radically changed how it works. GNOME purists were angry as version 2 worked just fine -- for them. And so, many hung onto the outdated version, shunning version 3.
Luckily, Linux and open-source software enables forking. Forking is basically taking source code, but taking it in a different direction than the original creator. And so, The Mate Desktop was created as a fork from the ashes of GNOME 2. Today, Mate 1.8 releases to the world.
Wolfgang Ulbrich, MATE maintainer for Fedora says, "during the Fedora 15/16 releases I was very dissatisfied about the desktop solutions included. After 10 month of using XFCE I got noticed about the MATE desktop, so I decided to build my own desktop for Fedora in December 2011. This work resulted in the first external MATE Desktop repository for Fedora and was used by many users worldwide [...] MATE 1.8 is currently in Fedora rawhide and will be released with Fedora 21 in summer".
Stefano Karapetsas of the Mate team highlights the following changes:
Caja (file manager)

Added option to use IEC units instead of SI units
Added "Open parent location" option in context menu in search view

Marco (window manager)

Added side-by-side tiling (windows snapping)

Panel

Added support to run dialog and main menu opening with metacity keybindings
Show a progress bar in logout dialog

Control center

Added support for Metacity as window manager

MATE Desktop library

Added MATE User Guide
Added mpaste tool for paste.mate-desktop.org

Eye Of MATE (image viewer)

Added shuffle mode in slideshow

Engrampa (file archiver)

Show always the "extract to" action in caja extension

Screensaver

Show date and time in lock dialog

Applets

Added undo functionality to sticky note applet
New "command" applet to show the output of a command
Rewritten "timer" applet in c
Mouse middle click on volume applet toggles mute state

Dropped packages

Replaced mate-doc-utils with yelp-tools
Replaced libmatekeyring/mate-keyring with libsecret/gnome-keyring
Replaced libmatewnck with libwnck
Replaced mucharmap with gucharmap
Replaced mate-bluetooth with blueman
Merged all caja extensions in a single package

Other improvements

Fixed a lot of code deprecations
Fixed a lot of bugs
Added and improved a lot of translations
Overall, this looks like a winner. Mate is a great desktop environment that is intuitive and easy on system resources. This is why I recommended it to Windows XP users looking to upgrade to Linux.
Do you use Mate? On which Linux distribution? Tell me in the comments.