Logitech brings its Harmony brand to the keyboard, wants to control your home theater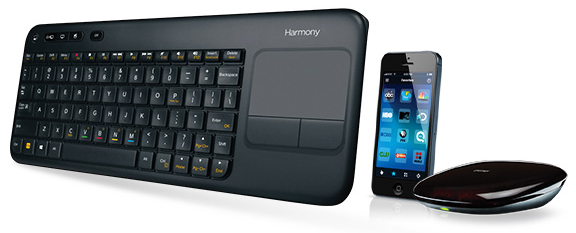 Logitech's Harmony line has been getting a recent refresh, with new remote controls being released. The universal remotes are highly useful for home theater enthusiasts, as they offer easy programming and excellent functionality.
Now the expansion continues, but this time it jumps to the keyboard. You don't even need to have an HTPC to take advantage of this new keyboard in your living room, thanks to a unique design idea.
The keyboard comes with a hub that "turns signals from [the] Smart Keyboard and Harmony App into IR, Wi-Fi, and Bluetooth commands that your devices understand", the company claims. As for the part about the Harmony App, you will need a smartphone or tablet to make this work. It is available for both iOS and Android.
"More and more people are streaming content in the living room whether from their computer, streaming-media device, such as Apple TV or Roku or game consoleS, such as Xbox One and Sony PS3. These devices seem to deliver limitless entertainment options, however their accompanying remotes struggle to keep up with the text entry needed to search for selections", the company announces.
The keyboard provides easy access to such buttons as play, pause and guide. It also has a touchpad and left and right mouse buttons. There is also no need to point the keyboard at the device or hub, and Logitech is claiming support for more than 225,000 devices.
The Logitech Harmony Smart Keyboard will retail for $149.99, and you can pre-order it now. An exact shipping date was not mentioned, but BetaNews has reached out to Logitech for an answer on that and we'll update this when we get a response.
UPDATE: Logitech is telling BetaNews that the keyboard will be available this month (March), but an exact shipping date was not given.