Opera 20 released, beefs up bookmarks bar, Speed Dial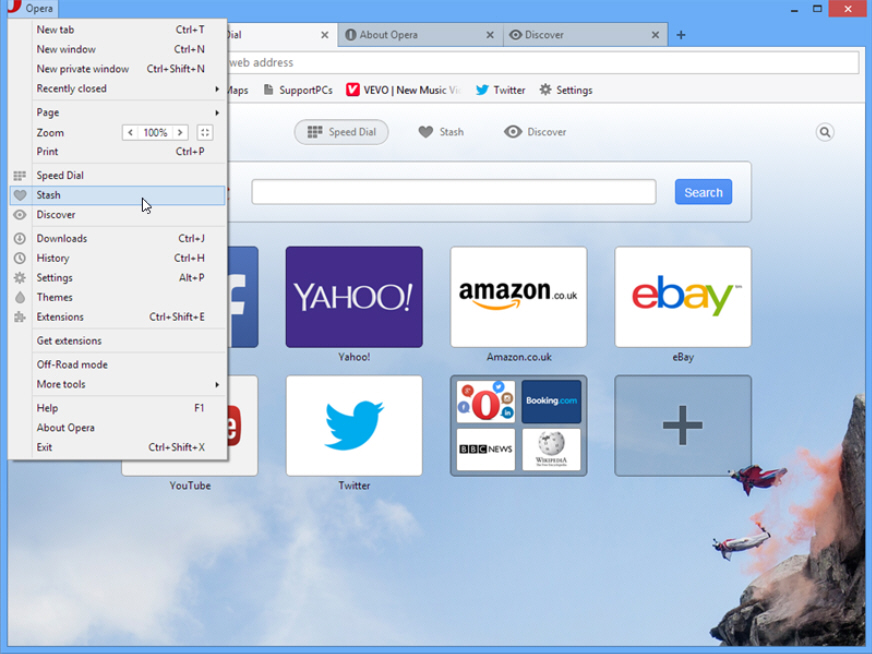 Opera Software has released Opera 20 FINAL for Windows and Mac. It's the sixth major update since the browser was rebooted with the Chromium browser engine, and follows previous releases in offering evolutionary changes rather than revolutionary ones.
Many of the new features in version 20 build on features added in January when Opera 19 was released, with improvements to the bookmarks bar and advanced Hardcore mode in addition to a handful of other tweaks.
The bookmarks bar made a welcome reintroduction in version 19, offering an alternative place to the Speed Dial for users to place their favorite websites. It's been further enhanced with this new release, now capable of accepting new sites that dragged on to it from tabs and the Speed Dial itself.
In addition, users can now drag websites directly on to the Speed Dial.
The main Opera menu has also been extended with three new shortcuts to Speed Dial, Stash and Discover functions, offering a more direct route to these features without having to open a new tab.
Version 19 also introduced a new "Hardcore" mode -- accessible via Settings > Browser (tick "Show advanced settings"). It's been augmented in version 20 with an additional option, allowing users to switch to smaller Speed Dial thumbnails by unchecking the appropriate option under Start page. Mac users also gain a new advanced option to confirm Opera's exit via the [Cmd] + [Q] shortcut.
The URL bar badge has also been tweaked to improve security by warning users when a site's security certificate is invalid by displaying a broken padlock, which Opera describes as a "proceed with caution" alert rather than a red warning.
Other improvements in Opera 20 include the promise of non-blurry screenshots when using Stash, performance improvements when loading themes, and inline installation of extensions, allowing users to install security vetted extensions hosted in Opera's add-ons store directly from the parent website.
Opera 20 FINAL is available now as a freeware download for Windows and Mac. The Android version should be updated shortly, adding support for WebRTC, a new simple search feature and greater customization options for the UI. Also available are Opera 12.16 FINAL and Opera 12.16 FINAL (64-bit) for Windows, Mac and Linux.