Listen up Android tablet users -- Pandora has an update for you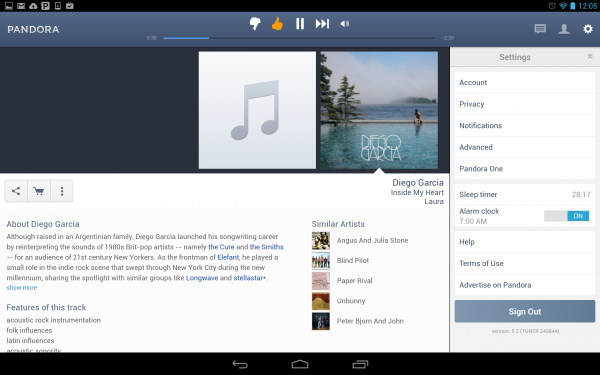 Pandora has been rolling out new features for mobile customers, including a sleep timer and alarm clock. Both of these enhancements are handy for a device that many of us leave on the nightstand at bedtime, but that doesn't always mean a phone.
Now the streaming service is expanding its offering, heading for Android tablets with these features that were previously only available to phone customers.
"Just like on Android smartphones, the functionality of Sleep Timer and Alarm Clock will work the same across tablets (including Kindle Fire) that have updated to the latest version of the Pandora app", announces Pandora's Mike Grishaver.
To locate these features, you will need to head into Settings, which is the gear icon at the top right of the screen when the app is open. "To set your sleep timer, simply choose the station that you'd like to fall asleep to and set your countdown time from 15, 30 or 60 minutes.  Your music will automatically turn off once this time expires". In other words, it works the same as it does on your phone.
With the alarm clock, you can actually keep listening after you get up. But if you don't want to, then you can tap the song or artist to pause the music.
"The best part is that you can use the Sleep Timer in conjunction with the Alarm Clock, allowing you to fall asleep and wake up to the tune of your favorite Pandora stations", Grishaver explains.
Pandora is free to install and use, but if you wish to avoid ads, then you will need to pay a small fee per month.