Want to get lei'd? Google Street View takes you to Hawaii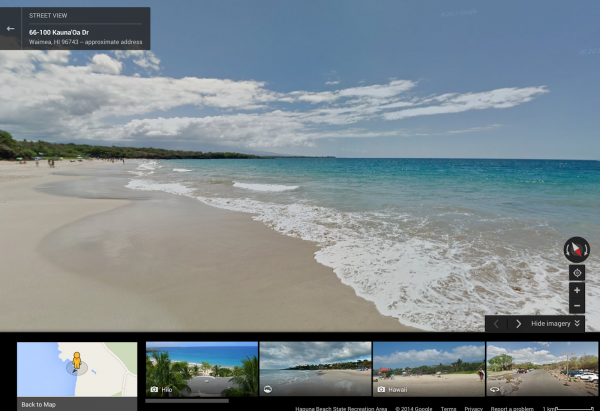 When people speak of romantic getaways or honeymoons, the conversation often turns to Hawaii. After all, it is literally a paradise, featuring beautiful beaches and awe-inspiring sunsets. However, there is one major downside -- the cost. Not only is airfare and accommodation very expensive, basic goods such as milk and bread have high prices too.
While you can close your eyes and imagine you are there, Google has a much better and high-tech idea. The search giant announces that it is bringing Street View to Hawaii. In other words, you can experience the 50th US state from your computer.
"Starting today, you can take a trip to the Aloha state and explore even more of Hawaii's hiking trails, parks, historical sites, and beaches using Street View on Google Maps. Last summer we announced our Trekker Loan Program with our first partner, the Hawaii Visitors and Convention Bureau (HVCB). Since then, HVCB has been collecting Street View imagery of many popular and special places across the islands of Hawaii (the Big Island) and Oahu", says Evan Rapoport, Product Manager, Google Maps and Street View.
Rapoport further explains, "whether you want to travel across the Pacific or around the block, we hope you'll use Street View to explore all the incredible places in the world. And if we've inspired you to plan your next vacation to Hawaii, you can also explore these amazing Street View Treks on GoHawaii.com, the official website for HVCB".
Google Maps is on a roll lately, as it was only yesterday that it was announced the company would bring Street View underwater in Australia. Whether it is Australia or Hawaii, it is definitely cool to experience far-away lands from a computer. I will likely never afford to travel to either place, so I welcome these moves. Mahalo Google!
Have you ever been to Hawaii? Tell me in the comments.
Image Credit: Maridav/Shutterstock