Microsoft wants to see women wearing boyfriend jeans on Skype -- creepy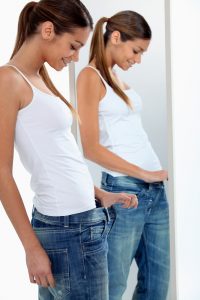 Each decade, there seems to be new extreme trends in fashion. In the 90s, whether you were grunge or hip-hop, it was cool to wear baggy jeans. However, this decade, there has been a skinny jeans trend. Both men and women are wearing pants that look painted on. This is not conducive to the phablet trend.
However, there is a trend that is the antithesis of skinny jeans -- boyfriend jeans. Yes, this particular style is baggy pants for women. In other words, it is meant to look like they are wearing their boyfriend's pants. Perhaps Satya Nadella is looking to become a fashionista, as Microsoft wants to see women wearing these pants on Skype. Creepy? Sort of.
"We're excited to bring you the Boyfriend Jeans Challenge. From March 7, 2014 -- March 14, 2014, we're challenging fashionistas across the globe to style an outfit around one of the most difficult-to-perfect wardrobe essentials: boyfriend jeans. The grand prize winner will be flown to London with Skype Photography Brand Ambassador, Chaucee Stillman, for a shopping trip with a personal stylist. As a professional photographer and fashion blogger, Chaucee will be using her impeccable talent for capturing street style to judge the challenge entries", says Quinn Hubbard, Microsoft.
Hubbard further explains, "the finalists will then join Chaucee and a panel of elite stylists on a Skype group video call. On the call, the eight finalists will be asked to record a Skype video message of their final look. Those videos will then be posted on the Skype Collaboration site for fellow fashionistas to vote on their favorite style. Finalists are encouraged to share their look with friends, family and followers. The finalist who receives the most votes will be flown to London for a shopping adventure most style icons only dream about".
Technically, even though this is a style for women, there is nothing preventing a man from entering. So, even if you are a dude, you can win by taking pictures of your derriere in baggy jeans and submitting them to Microsoft. So break out that bedazzler and get sexy -- it could earn you a trip to London.
Will you enter? Tell me in the comments.
Image Credit: auremar/Shutterstock