Manage offline Windows updates with Windows Hotfix Downloader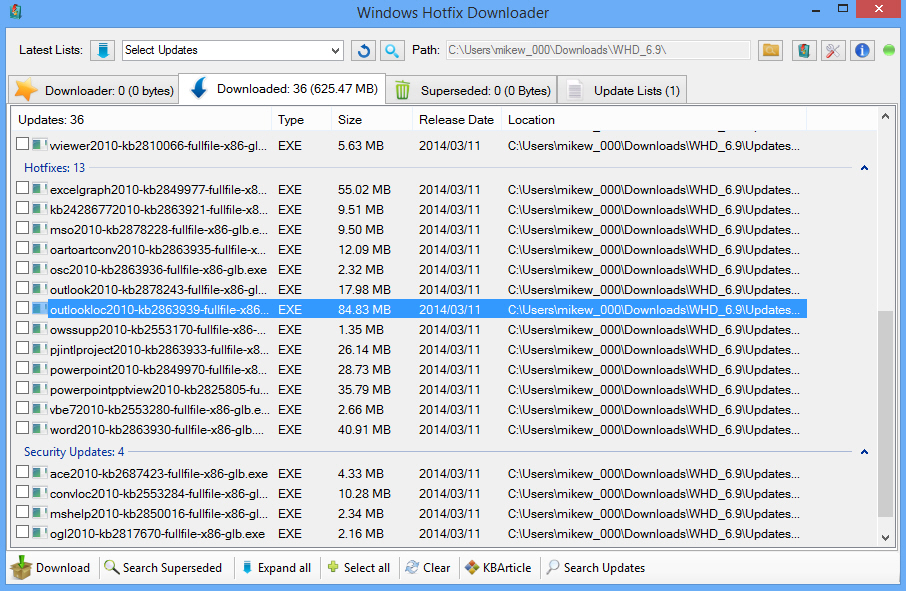 In an ideal world, updating Windows would never require any manual intervention. You'd set up your PC to install updates automatically, and get on with other things, leaving your computer to manage any patches all on its own.
Life isn't always that simple, of course. If you need to update a PC which doesn't have a fast (or any) internet connection, or maybe you have to manage the updates for several systems, then the regular Windows Update applet may not be enough.
Windows Hotfix Downloader is a portable free tool which gives you more control of the update process for all its supported products: the 32 and 64-bit editions of Windows 7, Windows 8.1, Office 2010/ Office 2010 SP2 and Office 2013/ Office 2013 SP2.
At its simplest, the program can download a list of updates for one of these products. You're able to browse this, and view the Microsoft support page for any particular update with a click or two.
Any or all of the updates may then be downloaded and installed on your current PC, or saved for use on another system.
The program can also integrate updates, language packs, service packs, drivers and more into your Windows and Office setup discs, so any installation will be just as you'd like, no further manual updates required.
There are bonus tools to help you create bootable UEFI flash drives for installing Windows 7/ 8/ 8.1, create a bootable Office ISO image, even back up your drivers (slightly off-topic, but still useful).
You get some thoughtful settings, too. The program can prevent your PC from sleeping while Windows Hotfix Downloader is running, for example. You're able to set the priority of the update process. And there's an option to limit the program's bandwidth use, so limiting its impact on the rest of your system.
Perhaps unsurprisingly, this really isn't for beginners. If you only need to manage a single computer then you're probably better off with the regular Windows Update applet.
If you've some experience in this area, though (you look at a setting like "Dism Location Path" and know why it's important), and you're currently looking after several PCs, then Windows Hotfix Downloader will save you a lot of time and hassle.