Google Chrome becomes avant-garde urban art experience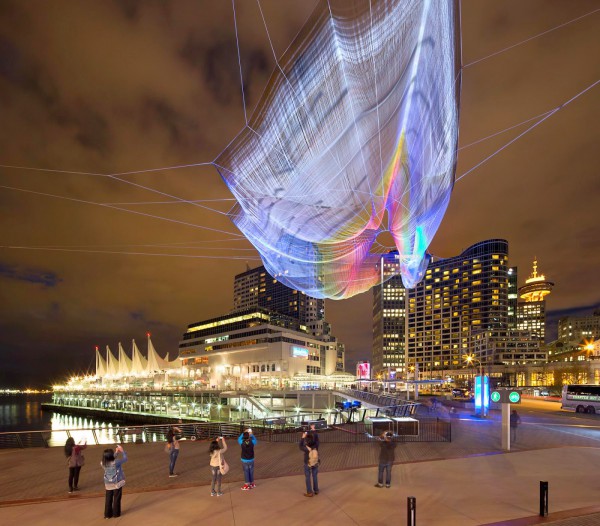 Having just celebrated the World Wide Web's 25th birthday, it is easy to be nostalgic. Websites and web browsers of years past are fresh in the minds of all. However, the future is truly where we should be looking. In other words, putting aside what a web browser is, what can it become?
Chrome is a very popular web browser -- many think it is the future. After all, it is chock-full of innovative features, such as account syncing. However, what if I told you, that Google's browser could be a futuristic, avante-garde art installation? It's true. Andy Warhol would be proud.
"Today, residents of Vancouver, Canada, will notice a new addition to their scenic waterfront: an interactive artwork on one of the largest textile sculptures ever. The piece, entitled Unnumbered Sparks, is a collaboration between artist Janet Echelman and Google Creative Director Aaron Koblin, as part of TED's 30th annual conference", says Jenny Ramaswamy, Google Creative Lab.
Ramaswamy further says, "what's not obvious to the public is when you look at the sculpture, you're actually looking at a web browser. The interactive lighting is actually one giant Chrome window, stretched across the 300-foot long sculpture with the help of five high-definition projectors. To interact, visitors open a website using Chrome or other modern mobile browser on their smartphone or tablet. After selecting a color, they use their fingers to trace paths along the surface of their device, which are then projected onto the sculpture in real-time as colorful beams of light. The result is a crowd-controlled visual experiment on a giant, floating canvas".
Yes, you've read that right -- the beautiful, over-head art exhibit is nothing more than an interactive Chrome window, being projected on a series of ropes. By allowing people to interact with it, the "sculpture" constantly changes. This is a great example of art and technology coming together to form something unique. Google should be applauded for supporting the project. While other companies cancel projects citing the bottom line, Google supports a project that has no affect on it at all.
Check out the video below, and tell me what you think in the comments.