ToneFone turns using your iPhone into a workout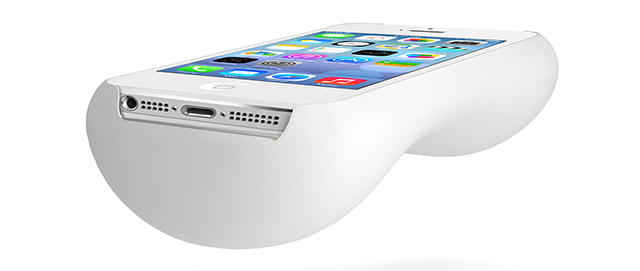 Apple's iPhone has been getting lighter (and thinner) with each iteration, and while most of us view that as a good thing, UK based healthy living brand Desirablebody.co.uk has a different opinion, believing much, much heavier phones could help us get fitter.
"In the 80s carrying around a mobile phone meant carrying some serious weight -- and that could sometimes be a mini workout all by itself," Fitness Manager, James Finlayson states. So Desirablebody.co.uk has introduced a case that takes mobile phones back to their roots and transforms the iPhone into a dumbbell. No, seriously.
Available in 1kg and 1.5kg weights, the ToneFone is primarily constructed from steel or (in the case of the heavier version) lead, and then wrapped in a protective layer of rubber. This turns the simple act of answering your phone, or sending a text, into a muscle toning workout.
"We can all agree spending too much time on your phone's not good for you. We wanted to change that" says Matt Morgan, MD of Desirablebody.co.uk. "What makes the ToneFone special is the ability it gives you to workout wherever you are. It's that freedom, we think, that's meant the ToneFone's been a surprise hit".
The ToneFone was initially launched at the beginning of this month -- with just 50 produced as an experiment -- and it sold out in under 72 hours. Backorders are now being taken for delivery in April.
It's available in white and priced at £22.90 ($38) for the lighter version and £25.40 ($42) for the heavier one. Gold and space grey models are due to launch in June this year.
Whenever I accidentally drop my phone I automatically try to cushion its fall with my foot, but somehow I don't think that would be the smartest move if it was encased in a ToneFone.
What's your view on this new case? Do you wish using your phone was more of a workout?