Rocking the dorm room -- Spotify offers student discounts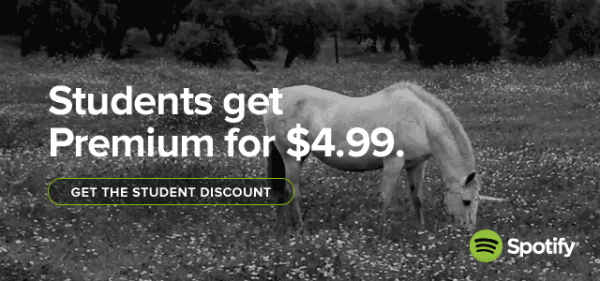 Students are sometimes in need of breaks on prices, as school eats into the time required for a job. To that end, many software and hardware makers offer discounts to allow those we consider our future to be able to attain what they need in order to get through classes. But that isn't all that's required, unwinding with some entertainment is also sometimes necessary.
Now Spotify wants to help out, offering discounts for students. The service has announced it is cutting the price in half, slashing $9.99 down to $4.99 for college students.
"We are pleased to announce that college students in the United States can now purchase Spotify Premium for $4.99. This new plan goes into effect immediately and can be redeemed here", Candice Katz of Spotify says.
Spotify Premium offers ad-free streaming, access via computer, mobile and compatible home theater gear, and (claimed) better sound quality. All of this will work through a partnership with SheerID. Effective immediately, students can begin taking advantage of the discount through Spotify Student.