Linux desktop environment GNOME 3.12 available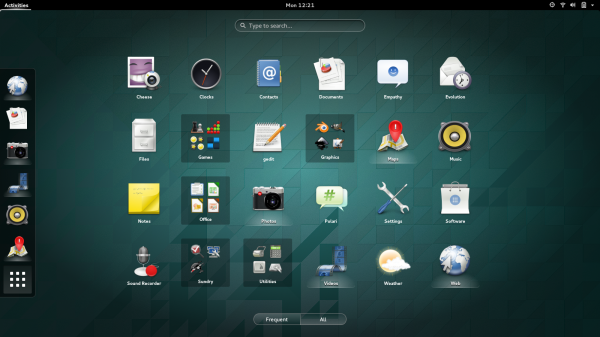 One of the great things about Linux distributions is the customization. In contrast, an operating system like Windows 8 is rather limited. Sure, you can change some colors, wallpapers and sounds, but pretty much, it is what it is. What you see is what you get. That is probably fine for most people, however, Linux users are not most people.
With an operating system such as Ubuntu or Fedora, the user can choose the interface in which they will interact. There are many desktop environments to choose from too, such as KDE, Mate, or my favorite, GNOME 3. Today, the open-source community is treated to the newest version of GNOME -- 3.12. Linux users can start salivating now.
"The GNOME Project has released GNOME 3.12 today. The next milestone release in the GNOME 3 series includes many new features, enhancements and updates, as well as new capabilities and APIs for application developers. The new version continues to improve the GNOME 3 user experience and includes many small bug fixes and enhancements", says The GNOME Release Team.
Christian Schaller, manager of the Red Hat Desktop Team says, "Red Hat is very pleased to see the GNOME community continuing to push the GNU/Linux desktop forward. We are looking forward to the innovations in GNOME 3.12 arriving in future versions of Fedora and Red Hat Enterprise Linux".
While there are many new features, the GNOME Release Team touts the following:
A significant update to the experience for finding and installing applications.
Major facelifts for the Videos and gedit applications.
Greater high-resolution display support.
Big updates for the Software and Web applications.
Improved start up times as well as more efficient resource usage.
A new application folders feature, which lets you organize your apps.
Overall, this looks like yet another home run for GNOME and I cannot wait to try it. Sadly, users of Fedora, such as myself, must wait for the next version of the operating system to take advantage of 3.12. However, users of other distros, such as Ubuntu, should be able to benefit very soon by adding the appropriate repositories.
Are you excited about GNOME 3.12? Tell me in the comments.
Image Credit: sarahdesign/Shutterstock