Amazon unveils Fire TV -- a set-top box with streaming video and games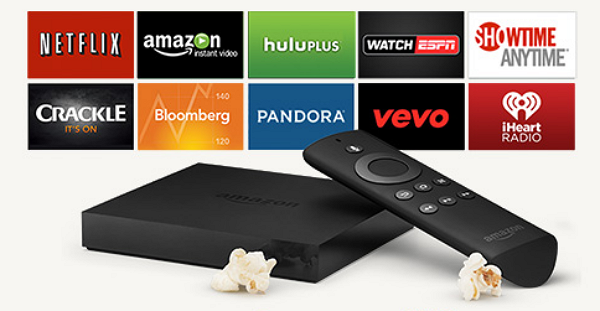 The rather crowded market of set-top boxes out there just got a bit larger with the announcement from Amazon that it will be joining the battle for control of your living room. Competing with the likes of Roku, Google TV and Apple TV is not easy, but Amazon is the equivalent of a 600-pound gorilla in the room.
The online retail giant already operates a popular TV and movie streaming service through its Prime program, and also has seen success in the hardware market with Kindle -- both e-readers and tablets. Now it attempts to take that experience and roll it into a device that it hopes will be welcomed into your daily entertainment experience.
This won't be completely tied to Prime either, which is currently $79 per year, though slated to soon rise to $99. Other services appear prominently in the demo -- Netflix, YouTube, Vimeo, MLB.TV, Hulu and the NBA were all present. Encompassing all major platforms is a wise move, given the stiff competition in this market.
While an Android gaming device for the living room already exists, in the form of Ouya, Amazon rolls competition for that into its new offering as well. The Fire TV includes games, and others on your home network can compete with you, even from phones and tablets. Amazon is working with Disney and EA on games, and controllers will be sold separately for those who want them. There's even a new exclusive title from Amazon Studios called Sev Zero, available now for $6.99.
A music library will also be included, along with apps from Pandora and many other streaming media services. There is also Xbox One-like voice control built into the remote. Retail is a mere $99 and Amazon is throwing in 1,000 coins with your purchase. It is available now, in stock on the Amazon site.
As for specs, the company tells us "it has a powerful quad-core processor, dedicated GPU, 2 GB of memory, and dual-band, dual-antenna Wi-Fi. With a fast, fluid interface, high definition 1080p video, and Dolby Digital Plus surround sound, Fire TV looks -- and sounds -- amazing".
Amazon does not need to profit from hardware -- it has proven this model with its tablets and e-readers. The money can be made up on the backend -- even Prime customers will end up buying or renting movies that aren't available under the Prime subscription. It's a brilliant move, and a logical next step to further the ecosystem.