Nokia unveils three new Lumia Windows Phone 8.1 smartphones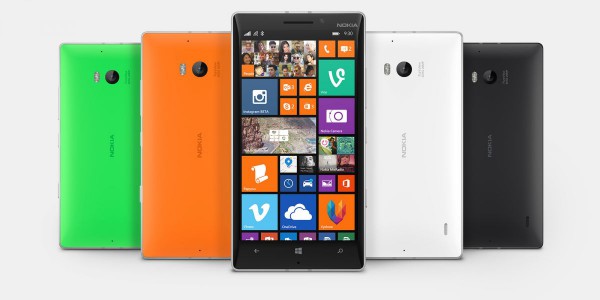 Now that Windows Phone 8.1 is official, Finnish maker Nokia just announced three new Lumias rocking the new tiled smartphone operating system. The Lumia 930 acts as the company's new flagship, while the Lumia 630 and Lumia 635 are its low-end offerings.
The Lumia 930 is the natural successor to the Lumia 920 and Lumia 925, strongly resembling the Verizon-exclusive Lumia 929 in both specifications and appearance. The Lumia 635 is the successor to the Lumia 625, with the Lumia 630 introducing dual-SIM support into the mix, a first for the platform.
"Today we are introducing people to the best of Lumia and the best of Microsoft through three stunning devices based on Windows Phone 8.1", says Nokia Devices & Services executive vice president Stephen Elop. "In addition to the new developments from Microsoft, Nokia is delivering people an uncompromised imaging experience, great design and better business phones. We're also pleased to bring the great developments in Windows Phone 8.1 to the Lumia devices people love today".
The Lumia 930 packs a 5.0-inch OLED display with a resolution of 1080 by 1920, which can be operated with gloves, and is powered by a 2.2 GHz quad-core Qualcomm Snapdragon 800 (arguably, a strange choice when the Snapdragon 801 is already available), 2 GB of RAM and a 2,420 mAh battery that is not removable.
It offers 32 GB of internal storage and, unlike the Lumia 929, does not offer a microSD card slot, which, again, is an odd choice. As far as cameras go, there is a 20 MP PureView-branded module on the back, with optical image stabilization, that can shoot 1080p video, and a 1.3 MP front-facing shooter that can record 720p video.
Other features worth mentioning are 4G LTE cellular connectivity, Wi-Fi 802.11 a/b/g/n/ac; Bluetooth 4.0; USB 2.0; NFC; DLNA; GPS with Glonass support, and Qi wireless charging out-of-the-box.
Nokia does not provide any measurements for the Lumia 930, but taking the Lumia 929 connection into account, it should come in at 137 x 71 x 9.8 mm and 167 grams.
Now here is the really interesting bit. The Lumia 930 will not be available in US. The device will be rolling out starting in June, in Europe, Asia, India, Middle East and Latin America and other parts of the globe, at the price of $599, without any operator subsidies or local taxes added. Available color options include black, green, orange and white.
As a Lumia 920 user I am not blown away by what I am seeing in the specs sheet, and might be waiting for Nokia's next flagship -- which given the rate the company is releasing them, it should be unveiled in the next couple of months -- to decide whether to upgrade or not. The release date is a few months too late down the road, in my opinion.
The Lumia 630 and Lumia 635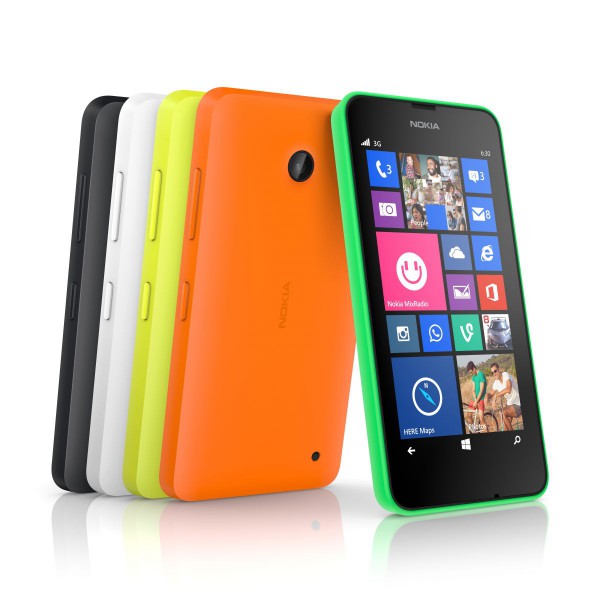 The Lumia 630 and Lumia 635 are less exciting, in comparison. They are mostly the same smartphone, with the exception of a dual-SIM trim for the former (it is a 3G-only affair, and this includes the standard, non dual-SIM model), and an extra orange color trim and 4G LTE cellular connectivity in the latter.
Here are the commonalities: 4.5-inch IPS display, that can be operated using gloves, with a resolution of 480 by 854; 1.4 GHz dual-core Qualcomm Snapdragon 800 processor; 512 MB of RAM; 1,830 mAh battery; 8 GB of internal storage; microSD card slot (can house cards up to 128 GB in size); 5 MP back-facing camera with 720p video recording (no front-facing camera in either of the two); Wi-Fi 802.11 b/g/n; GPS with Glonass; Bluetooth 4.0 and USB 2.0. The physical dimensions are 129.5 x 66.7 x 9.2 mm and 134 grams.
The Lumia 630 will be rolling out starting in May, in Asia, Russia, China, India and Europe as well as other parts of the world later, for €119/$159 without local taxes and mobile operator subsidies taken into account. The dual-SIM version adds €10/$10 to the price. The Lumia 635 will be available starting in July, including US, for €149/$189. Available color options include black, green, yellow and white for the Lumia 630, with the Lumia 635 being offered in orange as well.
What Is Nokia Adding to Windows Phone 8.1?
As we have come to expect from Nokia, the company is adding its own tweaks and apps on top of Windows Phone 8.1. We have the HERE suite, which is comprised of apps like HERE Drive and HERE Maps, Nokia Camera, Creative Studio, MixRadio, Refocus and Storyteller, to name a few.
Nokia says it is also baking a SensorCore feature into these devices, which is aimed to augment apps like Bing Health and Fitness. A SDK will be available for developers to plug it with their apps.
Nokia has named its first Windows Phone 8.1-based firmware Lumia Cyan. It will be rolling out to the existing Windows Phone 8 lineup starting this summer, bringing these improvements to existing customers.