Fire TV tops Chromecast as best-selling electronics product on Amazon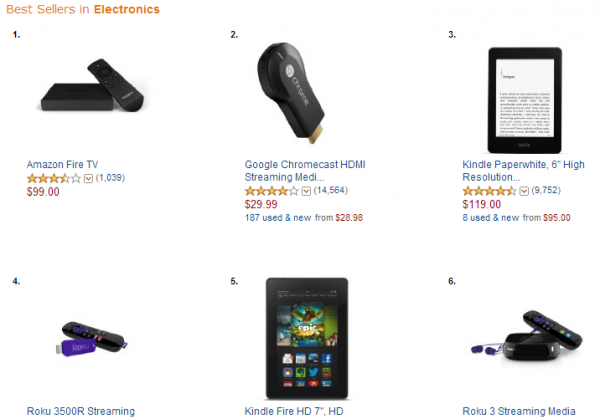 Google's Chromecast has been getting a lot of media attention in tech circles, mostly due to the ever-evolving number of services and websites throwing support behind the little HDMI dongle. Price also plays a part of it -- retail is a mere $35, and Amazon offers it for a hair under $30.
All of this attention has kept the product at the top of the best-seller list in the electronics category for sometime now. But last week Amazon disrupted the market by announcing Fire TV -- a small set-top box designed to compete with Chromecast, Roku, Apple TV and the like.
Now that product, in less than one week, has soared to the top of the charts, knocking Google into the number two slot, followed by the Kindle Paperwhite, Roku stick, Kindle Fire HD 7 and Roku 3.
At $99, the Fire TV is much more expensive than Chromecast, but customers seem to have a certain comfort-level with a set-top box, as it's a model they understand and are now accustomed to. Amazon also added support, not just for its Prime customers, but for those who wish to use Netflix, Hulu Plus and many other services.
The success isn't a great surprise, as we've seen previous Amazon hardware shoot to the top of this category. The device also offers many features out of the box, some of which Chromecast was busy adding after launch. The price is reasonable, as well. It has all the markings of a success, but only time can tell us if it really is.