Corning announces all-new USB 3.Optical cables


I'll admit it, I'm a sucker for USB. As someone who lived before the invention of the Universal Serial Bus, I realize how much of a game-changer it was. Over the years, I've amassed quite the collection of USB cables, hubs, flash drives, PCI cards -- you name it.
If you think all USB cables are the same, you are mistaken. They come in different lengths, colors and connection types, to name a few. But still, it's hard to get people excited about cables. However, Corning has managed to do just that, with the all-new USB 3.Optical cables. Whoa.
"Enabled by Corning ClearCurve VSDN optical fiber, the USB 3.Optical Cables by Corning are up to 50 percent thinner and up to 80 percent lighter than comparable copper cables, qualities that enable convenient transport. With a 'zero-bend' radius, they can withstand bending, squeezing, and tangling without damage or loss of function, making them ideal for routing through the harsh environment of a crowded workspace" says Corning. 
Bernhard Deutsch, Vice President of Corning Optical Communications explains "with longer, thinner, and lighter cables, USB 3.Optical Cables by Corning give users the freedom to max out data connection speeds for a more enjoyable creative workflow. Imagine having your computer at your workstation and the whir of back-up hard drives, printers, and other noisy peripherals in an entirely different room -- and still benefiting from unbelievable transmission speeds".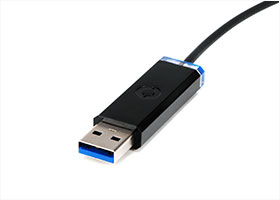 The company lists the following features:
5 Gb/s data rate
Compatible with USB 3.0 and USB 2.0 devices
Ultra-slim, "zero-bend" radius cable
Extends USB device reach without additional power supply
Hot swappable
Built in overcurrent protection
In other words, the big selling-point is that the cables can be super-long, without degradation or disconnects. Normal copper USB cables are limited to a mere 3 meters, whereas Corning's solution can go an amazing 30 meters. Impressive.
The company also touts the benefits of silence -- keeping USB hard drives and printers in a room away from the computer. However, many businesses use wired networked printers and drives, so it is hard to see the value in such an expensive cable. At Amazon, the 10 meter variant is currently $109. A home user can buy a wireless printer for less than the cost of the cable.
While I am still excited about Corning's uniquely-named USB 3.Optical cables, it is clear that the need for it is limited and narrow. There would have to be a very unique application where someone needed a really long USB cable instead of going wireless or running Cat5.
Where do you see this cable being used? Tell me in the comments.