Logitech Harmony Smart Keyboard now controls Amazon Fire TV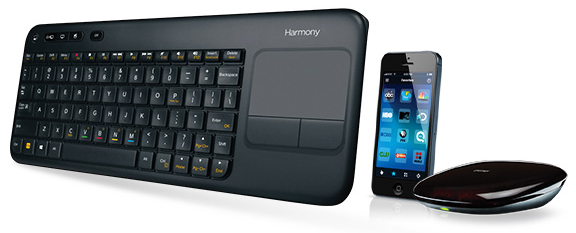 It's been a busy couple of weeks in the home theater market, with a few major releases, including the Roku streaming stick, but also Amazon's much anticipated Fire TV and the latest offering from Harmony. The Logitech-owned company offers a number of smart remotes, but now also has the Smart Keyboard, designed to control your home theater.
The introduction of Amazon's Android-based box seemed to offer a challenge, as the remote is Bluetooth, but Harmony has stepped up and made it work.
"Now Harmony Smart Keyboard customers can control their Amazon Fire TV by using the included USB receiver. It's easy to add the device, just go to the Harmony App, add Fire TV as a device, and create the Harmony Activity", says Logitech.
The keyboard allows for universal searching across services, and also integrates with an app that is available for both Android and iOS. As for the voice search built into the Fire TV remote, the mobile apps can handle that for customers.
Fire TV retails for $99 from Amazon, while the Harmony Smart Keyboard will set you back $149 from Logitech.
Update: Logitech has contacted BetaNews to let us know that the voice search is not yet functioning -- "It was discovered that the Logitech Harmony app does not currently support the voice-to-text search functionality for the Amazon Fire TV. The Harmony team is working on this addition, so we'll continue to keep you updated".