Microsoft All-in-One Media Keyboard is ready for some HTPC action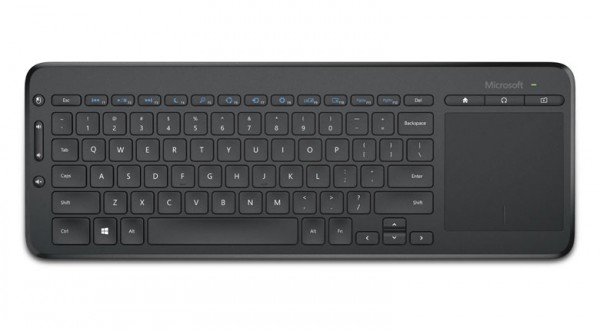 Over the years, many hardware companies have had varying levels of quality. However, there are two companies that you can almost always depend on for solid input devices -- Logitech and Microsoft. Both of these companies make phenomenal mice and keyboards. Sure, there are missteps every once in a while, but for the most part, their hardware can be trusted to work well and last long.
Last week, Logitech announced the brilliant Illuminated Living-Room Keyboard K830 -- a combination keyboard and trackpad. It is an elegant solution (BetaNews will be reviewing it soon), but is a bit pricey at $99. Today, Microsoft announces similar hardware, called the All-in-One Media Keyboard. The price? A very low $39. Is this the perfect low-cost solution for HTPC and Raspberry Pi?
"The All-in-One Media Keyboard has an integrated multi-touch trackpad next to its full size keyset so you can not only type things but also swipe, drag, drop, zoom and click super easily. The All-in-One Media Keyboard connects wirelessly to your PC through its USB wireless transceiver and is made to be durable and spill resistant which is all perfect for the living room. They keyboard also has hotkeys that provide shortcuts to the most commonly used Windows features including Search and Share charms as well as media controls like play/pause and volume", says Brandon LeBlanc, Microsoft.
Sadly, unlike the new Logitech K830, this Microsoft keyboard is not backlit. This makes it a poor choice for many HTPC setups. With that said, it is nearly a third of the price of the Logitech, so consumers that do not watch TV in the dark, may choose to save some money here.
Quite frankly, even though the focus is on the living room and media, there is no reason why the Microsoft All-in-One Media Keyboard can't be used for regular computing, like office work. I can see this being a wonderful companion to a Surface owner, as the tablet only has one USB port. Raspberrry Pi owners should take notice too. This keyboard/touchpad combo would work splendidly in either scenario.
Both the Logitech K830 at $99 and Microsoft All-in-One Media Keyboard at $39 have their targeted audiences. Luckily for BetaNews readers, yours-truly will be reviewing both shortly.
Will you be buying the Microsoft All-in-One Media Keyboard when it goes on sale tomorrow? Tell me in the comments.