Logitech announces HTPC-friendly Illuminated Living-Room Keyboard K830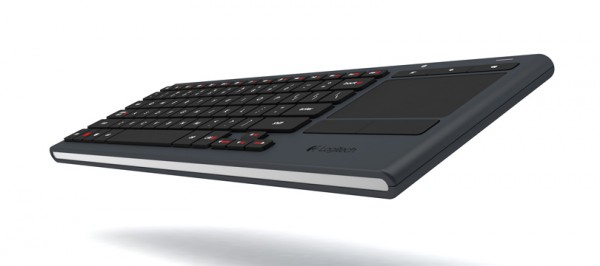 Home-Theater PCs (HTPC) are a bit of a dying breed. While many people still build and use them, the rise of media boxes and dongles have rendered them a bit unnecessary. After all, something like a Roku takes up far less space, costs less and uses much less electricity than a full-fledged PC.
However, HTPCs still have their place in some homes. And so, high quality wireless pointing devices and keyboards are still desired by some consumers. Hell, I run XBMC on Raspberry Pi in my living room and have a need in that regard too. Today, Logitech announces a solution for these users, with the Illuminated Living-Room Keyboard K830.
"Today, we are thrilled to announce the latest in living room navigation, the Logitech Illuminated Living-Room Keyboard K830. Already an award winner with recognition from the 2014 Red Dot awards for excellence in design, this keyboard is a must-have for any modern living room. It enhances your PC-to-TV entertainment experience by allowing you to access your favorite TV shows, music, movies or share your photos with family and friends from the comfort of your couch", says Logitech.
The company further explains, "while relaxing at home, the Logitech Illuminated Living-Room Keyboard K830 lets you sit back and browse your connected TV from up to 33 feet away, thanks to its advanced wireless connection. And, with backlit keys that automatically dim or brighten based on the amount of light in the room, you can use the keyboard day or night. There's also no need to use a separate mouse since there is a smooth and responsive touchpad built into the keyboard".
Backlit keys are a must for a HTPC, as people often watch movies and TV shows with the lights off. Without it, you may be fumbling around and pressing the wrong keys. The internal battery is rechargeable, which means you won't have to run out to buy AA batteries in the middle of the night. At $99, this is a great value.
Do you still use a HTPC? Will you be buying this? Check it out in the below video, and tell me what you think.