Toshiba offers 4K in new Satellite P55t laptop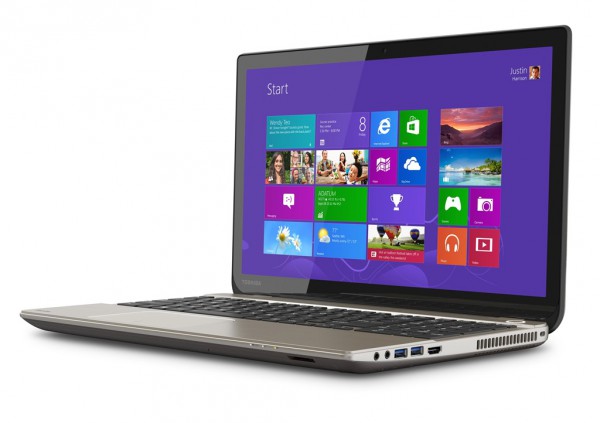 The displays of mid-range and high-end laptops have reached a point when distinguishing pixels is no longer easy. We can thank high resolutions for that. Nowadays, even small laptops can tote 1080p, and some offer even more than that. Manufacturers can start focusing on other aspects, as any improvements in this area are purely incremental. And, there is only so much the human eye can see, after all. (But, we can all enjoy battery life improvements, for instance.)
Toshiba has not yet given up on competing in the specs race though, as it just unveiled a new laptop, called Satellite P55t, sporting a display resolution of 3840 by 2160, commonly referred to as 4K. The new offering has a price to match the prowess of its 15.6-inch screen, as it costs $1,499 when it goes on sale later this month, on April 22. That is not cheap by any stretch of the imagination.
A 15.6-inch screen -- IPS in this case -- combined with 4K equates to a density of 282 pixels per inch. For a laptop users will look at from a considerable distance, that is impressive (and, perhaps, more than enough).
Inside, Toshiba employs a quad-core Intel Core i7 processor (Haswell generation) and an AMD Radeon R9 M265X graphics card, with 2 GB of GDDR5 RAM, to handle the load. Users can have the Satellite P55t with 1 TB of storage and as much as 16 GB of RAM. There are also four USB 3.0 ports, an SD card reader that support UHS-II cards (known to be far and few between, yet very fast), Wi-Fi 802.11 ac, HDMI and, optionally, a rewritable Blu-Ray drive. It all hints that this laptop is not aimed at the average Joe.
The Satellite P55t may not the most beautiful laptop you have ever seen, but it does come with a backlit keyboard, that is very useful and, at the same time, looks cool at night, and a brushed aluminum finish. From the information we have on it, it does not seem to offer a touchscreen. It will likely ship with Windows 8.1 Update come availability time.