Acer C720P Chromebook puts brawn before beauty [review]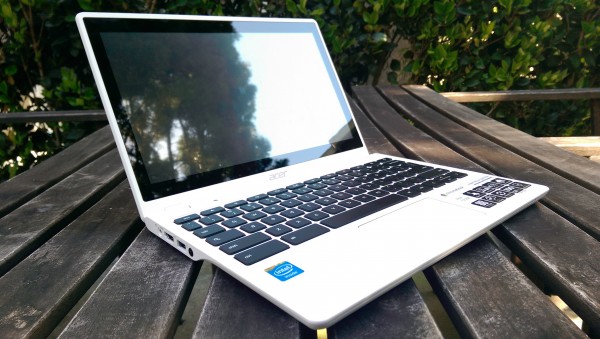 I struggle to aptly describe my feelings about Acer's affordable touchscreen Chromebook. The C720P is the lover you keep in the dark, for the benefits, but which you wouldn't be seen with in the daylight. Performance and battery life are wow-worthy. But the plastic exterior looks and feels cheap, and the touchscreen is too dim -- well, for my tastes.
More than two months now using the C720P, I like the computer least of all the Chromebooks to pass my way. I really want to love the laptop, and maybe you will. Perhaps experience using other Chromebooks soils my perception, and I am too quick to compare. That's why I sought, and got, reaction from C720P owners, many of which are more forgiving about appearances for performance benefits. Their responses are essential to this review.
See Me, Feel Me, Touch Me
Touchscreen is the major reason to choose the C720P over another Chromebook. Acer breaks pricing ground by bringing touch from the Google Pixel's budget-busting $1,299 down to something mere mortals can afford ($299).
The screen is overly blue hue, dim, and reflective. Since the touchscreen is the major benefit over other Chromebooks, I expect better. At 200-nit, the screen simply isn't adequately bright, a problem ambient-light reflectivity exacerbates. HP Chromebook 11 is the standard by which the C720P and its competitors should be compared. The bright, 300-nit IPS display gives rich color and saturation, while being viewable from almost any angle. That's not true of the Acer or any other Chromebook with single exception: The pricey Pixel. I could get past the cheap plastic if the touchscreen had premium look.
"I have the 720P and if it had a brighter, higher-res screen with better touch responsiveness (all of that with no sacrifice in battery of course) it would be the ideal Chromebook in my opinion", Justin Siefert says.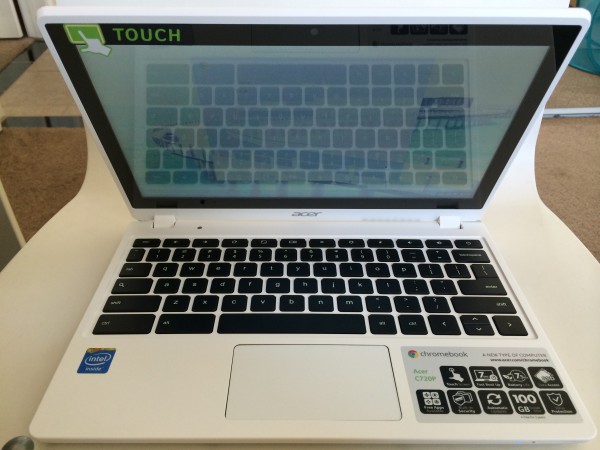 Seeing is one thing, and feeling is altogether something else. The touchscreen is aptly responsive and comparable enough to the Pixel in my testing. That feat makes the C720P a huge value -- as long as touchscreen is your thing. That said, should it really need to be blind man's touch in a room with bright overhead lights?
"The touch capability is surprisingly useful", Irina Ivanova says of her C720P. My wife feels the same way. I moved her from Chromebook Pixel to the 11.6-inch MacBook Air (with 1.8GHz Core i7 processor and 4GB) before switching her to the Acer. She reacts differently than do I. She finds the touchscreen to be adequately useful and bright enough.
Product reviews are a crap shoot. You should cautiously regard this one and any other. The only reviewer that matters is you. Your priorities likely differ from anyone else's. If touch matters most, read no further.
Performance is snappy. The $299 model comes with just 2GB RAM, an amount I previously criticized as being too little on older Chromebooks. But not the C720P. This isn't my first Chromebook with "Haswell" processor, but something is different. Perhaps combination of chips: microprocessor, RAM, and SSD. Looks like Acer packs the quality inside, putting performance before beauty. Without question, the C720P keeps its pep even with 20 tabs open -- something that chokes HP Chromebook 11. Do you want brawn or beauty?
"I can't deny that I love my C720P", Craig Scarlett says. "Price vs. performance it's a sure bet. Coupled with my Chromecast for multimedia consumption it's hard to beat. Despite the better screen and keyboard on the HP 11, I still wouldn't trade my Acer for it. The HP simply can't do what my Acer can".
Battery life will exhaust the Energizer bunny. This is an all-day laptop, with longevity rivaling Macs or Windows PCs costing hundreds of dollars more. The battery life would be nowhere as long with a brighter screen. Acer optimizes for longevity, while I would prefer better screen viewing. If charge matters more to you than visuals, the C720P won't disappoint. I easily get longer than the stated 7.5 hours, even with heavy use.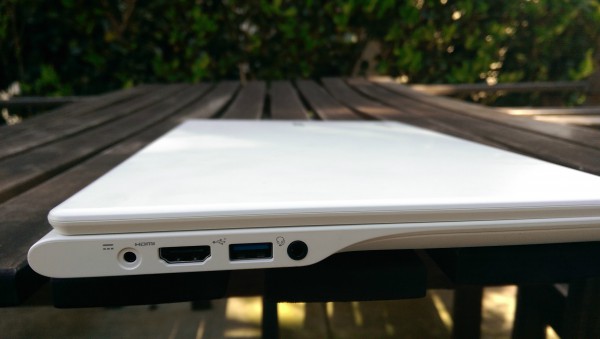 But the plastic casing looks and feels cheap; Evan Wantland agrees: "Feels, looks cheap, but seems to work like a charm". By the "see, touch and feel scale", there is "room for improvement", Harold Mosby says. "On the performance scale, though, it satisfies".
Keyboard, while good, falls short of the exceptional tactile feel that defines Chromebook. The keys, along with the trackpad, are noisy. Click. Click. Click. "I can't imagine librarians will be too happy, or teachers, to hear the constant 'clack, clack, clack' of the C720's keyboard and mousepad in libraries and classrooms around the country", Mosby says.
However, after adapting to the keys' stiffer response, typing is as good as or better than other laptops in the price range. "The screen/keyboard/touch pad issues you raise haven't bothered me much, and I find the touch pad improved over an earlier Acer Chromebook I had for a while", lan Zisman says.
Measuring Value
Chromebook isn't a computer. It's a lifestyle. You choose to act differently, by working in the browser, storing all that's precious online, and syncing passwords and settings across devices. The lifestyle is contextual -- anytime, anywhere, anything computing. You leave behind worries about lost data, malware highjackings, or frightful PC setup and maintenance.
The Chromebook marketplace is considerably crowded compared to release of the first commercial models in 2011. Acer stays competitive by playing to the value crowd -- the C720 (without touchscreen) starts at $199. If you're not as fussy about appearances or screen brightness and viewing angles as me, the C720P delivers as much, and in many ways more, than its competitors.
Let's compare models with 11.6-inch screens.
Acer C720P specs: 1.4GHz Intel Celeron 2955U Haswell processor; 11.6-inch display with 1366 by 768 resolution, 200-nit brightness; 2GB or 4GB memory; 16GB or 32GB SSD; SD card slot; Bluetooth 4; WiFi A/N; and Chrome OS. Weighs 2.8 pounds. Price: $299,or $329, depending on RAM and storage. Acer offers a dozen different C720 or C720P configurations -- five for the latter. Be careful choosing. The $329 model doubles memory but halves storage, for example.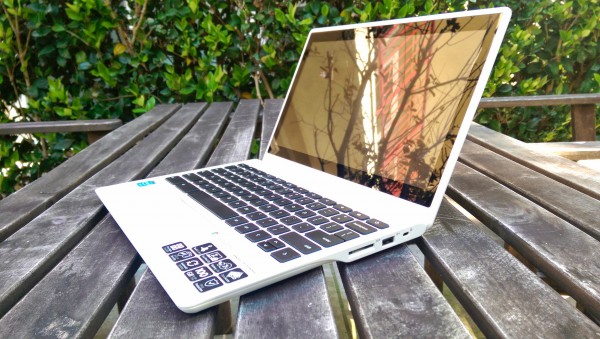 Dell Chromebook 11 specs: 1.4GHz Intel Celeron 2955U Haswell processor; 11.6-inch display with 1366 by 768 resolution, 200-nit brightness; 2GB or 4GB memory; 16GB SSD; SD card slot; Bluetooth 4; WiFi A/N; and Chrome OS. Weighs 2.9 pounds. April launch price: $279 (2GB); $299 (4GB).
HP Chromebook 11 specs: 1.7GHz 5250 dual-core processor (ARM); 11.6-inch display, 1366 x 768 resolution, 300-nit brightness; 2GB RAM; 16GB SSD; Webcam; two USB 2.0 ports; WiFi A/N; Bluetooth 4.0; Chrome OS. Weighs 2.3 pounds (1.04 kg) and is 0.7 inches thick. Price: $279.
Samsung Chromebook 2 specs: 1.9GHz Samsung Exynos 5 Octa 5420 (ARM) processor; 11.6-inch display; 1366 x 768 resolution, 250-nit brightness; 4GB RAM; 16GB SSD; SD card slot; Google Hangout-certified webcam; one each USB 2.0 and 3.0 ports; HDMI port; WiFi AC; Bluetooth 4.0; Chrome OS. Weighs 2.65 pounds. Price $319.99, available in May.
For anyone looking for touch, speed, and battery life, C720P offers loads of value. HP gives best keyboard and screen but with least performance and battery life of the five (when including C720). The Dell and HP are priciest for what you get.
That's a wrap. I'm not in love with the C720P, but the Chromebook is huge value for the price. For $20 more than the Dell or HP and 20 bucks less than the Samsung, Acer gives you a touchscreen. Then there is non-touch C720 (without the P), which in his review my colleague Brian Fagioli calls the Chromebook to buy. He made that assertion before Acer offered a $199 configuration.
Photo Credits: Joe Wilcox